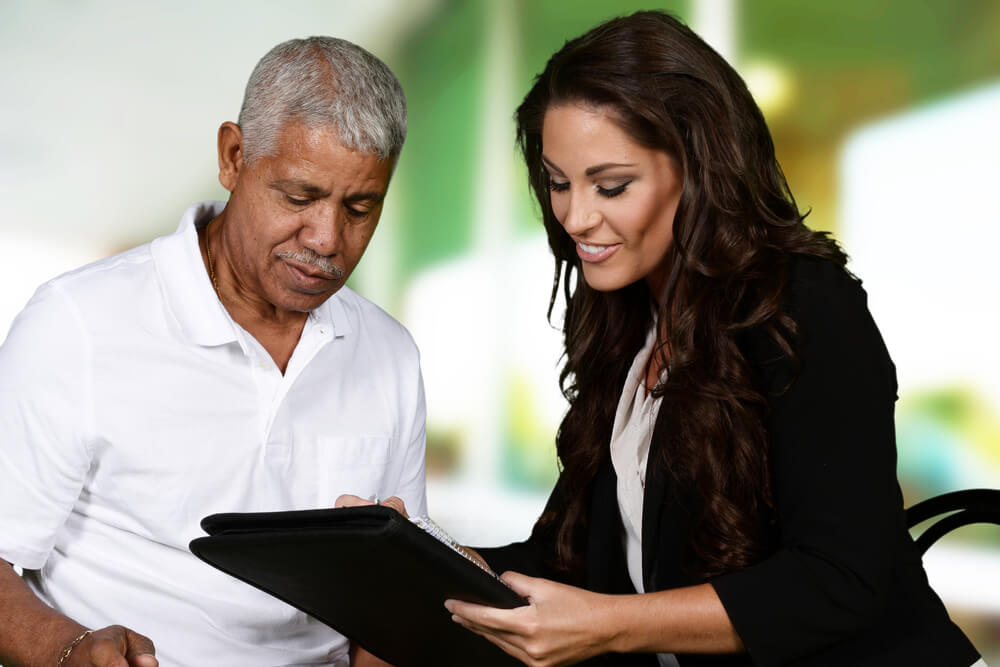 Dementia is not just one disease; it covers a wide range of specific medical conditions, Alzheimer's being one of them. The disorders grouped under dementia are caused by abnormal brain changes, changes that trigger a decline in thinking skills/cognitive abilities which are severe enough to impair daily life and independent functioning of the elderly patient. These changes also have an evident impact on their behaviour, feelings and relationships.
With that said, seeking professional help for dementia care and working with your loved one by developing a dementia care plan can immensely help the caregiver and those with dementia.
To understand how to take care of patients with dementia, it's important to be aware of the symptoms that are observed in most of them. While these symptoms vary depending on the cause, the common symptoms include:
Cognitive changes
Memory loss
Disorientation and confusion
Difficulty in communicating or finding words
Difficulty in reasoning or problem-solving
Difficulty with visual and spatial abilities
Difficulty in planning and organizing
Difficulty with handling complex tasks
Difficulty coordinating and/or with motor functions

Behavioural changes
Anxiety
Agitation
Depression
Inappropriate behaviour
Paranoia
Personality changes
How to ensure the best dementia care for your loved one
Since 2013, Samvedna Care has been continually providing top-notch senior dementia care and dementia care services that are holistic and address all the challenges faced by those suffering from dementia.
With multiple intervention programs that are guided by evidence-based practices and person-centric care, Samvedna Care's dementia care centres in Delhi promise the best dementia care for your loved one. Well researched and highly acknowledged by the medical community, these programs empower the family as a whole in the caregiving process.
The expert programs offered by Samvedna Care include:
The initial symptoms of dementia can appear as early as ten years before the actual onset. A timely cognitive assessment can help you understand the risk factors and take preventive measures at the optimal time. At Samvedna Care, memory assessments and neuropsychological evaluations are conducted by experienced mental health specialists and clinical psychologists. The Cognitive Assessments Services comprise of:
Memory Screening,
Neuropsychological Assessments, and
Neuropsychologist Review
Samvedna's expertly designed homecare programs provide person-centric care for the elderly suffering from various stages of Dementia. After having spent more than 7 years of providing psychosocial support for individuals suffering from dementia, the institution has expertise in providing professional dementia care across the spectrum. Compassionate care and providing help to families accept the condition of their loved ones is critical.
The process at Samvedna Care starts with a medical review which is then followed by a detailed case assessment of the elderly. An individualized care plan is developed for the elderly based on the assessment report and neurologist feedback.
The services offered under Samvedna Care's Home Care Program include:
Social Wellbeing Services
Cognitive Stimulation Therapy
Respite Care Services
Family Awareness Program
Caregiver Enablement Program
Samvedna Care's caregiver enablement program is an affordable solution to empower family caregivers to provide the best care for their loved ones. Not only does the program include psychoeducation about Dementia, caregiver counselling, and dementia care training by specialists, but it also trains the caregiver to aid them in taking care of the patient with dementia. What's more, Samvedna Care's specialists also provide on-call support for understanding the various aspects of cognitive stimulation for their loved one.
Most people, after being diagnosed with dementia stop socializing due to the stigma attached to it. To battle that, Samvedna Care offers group programs for people with dementia at their senior dementia care centres. The programs encourage the development of a routine and help the elderly socialize to keep them engaged. The two programs under Group Program Services are:
Cognitive Wellness Program (better suited for individuals with mild to moderate stage dementia)
Dementia Café (better suited for individuals with moderate stage Dementia)
Samvedna Care believes ardently in 'caring for the carer'. To see a previously capable parent/spouse become increasingly dependent is not easy, and can be quite burdensome for the caregiver, leaving them feeling emotionally and physically drained. Most caregivers tend to ignore their mental peace while caregiving, which is why Samvedna Care's holistic dementia care services offer caregiver services for individuals, families, and groups. The services offered under Caregiver Support extend to:
Dementia care can be daunting, but with Samvedna Care's dementia care centres in Delhi, you can ensure the best dementia care plan for your loved one!