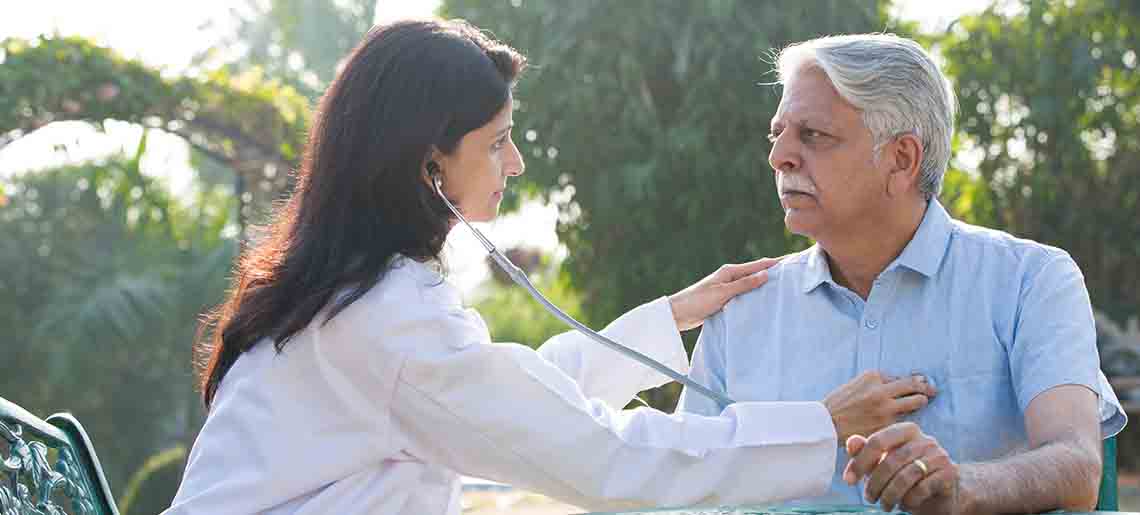 As the elderly grow old, living independently and managing all chores becomes difficult for them. The tasks that they could have accomplished rather easily become burdensome for them in their old age. In such situations, senior citizen home care services can aid the elderly or sick with the help they need in managing their daily routine and live healthy lives. Samvedna Care's elder care and home care services can aid the elderly with handling all the errands and chores, maintaining their home, and so much more! The eldercare and home care services from Samvedna Care also extend to skilled medical care in the form of physiotherapists, nursing assistants and nurses.
Dedicated senior citizen home care services those suffering from Dementia
Samvedna Care's seniors home care services provide person-centred care for the elderly suffering from various stages of Dementia. With more than seven years of experience providing psychosocial support for individuals suffering from different types of Dementia, like Alzheimer, Vascular Dementia, Fronto Temporal Dementia and Parkinson's, Samvedna Care knows that the paramount aspect of professional Dementia care, across the spectrum, is compassionate senior citizen care at home, to help families accept the condition of their loved ones.
Home care packages and services for seniors
The procedure at Samvedna starts with a medical review followed by a detailed case assessment of the elderly. The care components include caregiver counselling which is then followed by care interventions for the senior citizen with Dementia. A personalized care plan is then developed for the elderly based on the assessment report and neurologist feedback. Each care plan and care package is reviewed and monitored regularly by the team of experts at Samvedna Care. Moreover, the team of psychologists is just a phone call away in case of any queries or support needed by the families.
Social Wellbeing Services
Suitable for initial to moderate stage Dementia, this package is customized to adapt to the person's profile, interests and hobbies. The program focuses on intellectual companionship and continued socialization. This program helps slow down the progression of Dementia, helping maintain the self-esteem of the elderly while providing an improved quality of life.
Cognitive Stimulation Therapy
The individualized cognitive stimulation therapy package is best suited for a senior with initial stage Dementia. This therapy is a well researched evidenced-based program which incorporates various aspects of cognitive stimulation. The elderly with Dementia participates in a series of modules each of which focuses on a particular theme. The benefits of the program include improved quality of life and greater social interaction. What's more, you can avail this package for the duration of 3 and 6 months.
Respite Care Services
Sanvedna Care's respite care services are suitable for a person with moderate to advanced stage Dementia. It is a program adaptable to the person's changing needs, and a combination of reminiscence therapy, tactile and sensory stimulation activities and also includes components of art, music and dance therapy. Furthermore, this program provides respite to the family from the burden of caregiving, helps maintain the self-esteem of the elderly and improve quality of life.
Family Awareness Program
Samvedna Care also offers medical review followed by a detailed assessment as well as counselling for the family. Suitable for families whose loved ones have been recently diagnosed with Dementia, and they are struggling to understand how to manage the care, this home care package helps the families decide how best to care for the elderly and plan their time and efforts accordingly. The counselling sessions help the families understand various aspects of care including setting up the home environment, dealing with challenging behaviour, communicating with the loved one and personal care.
Caregiver Enablement Program
The caregiver enablement program from Samvedna Care is a cost-effective solution to empower family caregivers to provide care for their loved ones. This program includes psychoeducation about Dementia, caregiver counselling and Dementia care training by our specialists. The caregiver is trained on various aspects of cognitive stimulation and provided on-call support by our specialists.
Long Term Care At Home
Samvedna Care's long term care program provides three-sixty degree care for the elderly through a continuous care monitoring process. The care plan includes regular physician visits at home, nursing care, attendant services, medication management and provision for other healthcare needs like diagnostics, medical equipment etc. What's more, the package also includes continuous care evaluation and family counselling as well as psychological assessments and therapies for the elderly.
Samvedna Care is one of the best senior citizen association in Gurgaon and Delhi, in fact, all of the NCR because it not only has the some of the best senior citizen home care services and packages but also exception eldercare packages for elderly. Some of them include:
General Well-Being,
Personal Care Services,
Home Management and
Counselling.
Samvedna Care specialises in elder care and Dementia care; it is sure to provide you with the best holistic home care packages you can find for elders in the NCR.