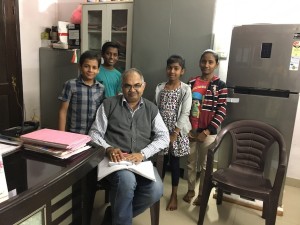 Little Abhishek, Divya, Priyanka and Shiva were very happy to get admission to a good public school to pursue their education. These children of HIV infected parents live in an orphanage in Gurgaon. However, because of starting their educational journey at a slightly later age they were finding it difficult to cope with their science and math syllabus at school. As a part of Samvedna Care's  Community outreach program our club member, Mr. Chadha, a retired Government Servant, decided to volunteer his time to teach these kids mathematics. Ever since he has started teaching these kids, they are able to do their homework and they are  also grasping the concepts.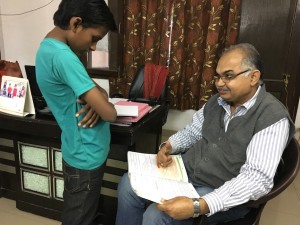 Mr. Chadha has this to say about the programme – " I am enjoying my time with the kids and find what I do very fulfilling and emotionally rewarding. I feel like I am able to utilize my time constructively."
Samvedna care's Community Outreach program is a platform for senior citizens to do social work in a structured way, members engage in volunteering programs according to their availability. It helps senior citizens engage in meaningful, fulfilling activities with a sense of purpose and accomplishment.
---
Great Times by Samvedna is our social and recreational club in Sector 43, Gurgaon, for members 55 years and above. Its a place where members come to get fit, meet like minded people and share their life experiences and give back to the community.
Activities at the club include fitness exercises, group meditation, mind stimulation, tambola, dancing, book reviews, movies, community outreach, and talks on health management. The club has a library, computer room, visits by physiotherapists and doctors, access to board games and cards, a fully functional pantry with healthy and affordable snacks and tea and coffee on the house.
There are special discounts for group memberships. The club is open Monday-Friday, 11am to 5pm. There are special classes for yoga, computers, spoken english, dance, music and painting. We also have Bridge mornings every Tuesday and Thursday.