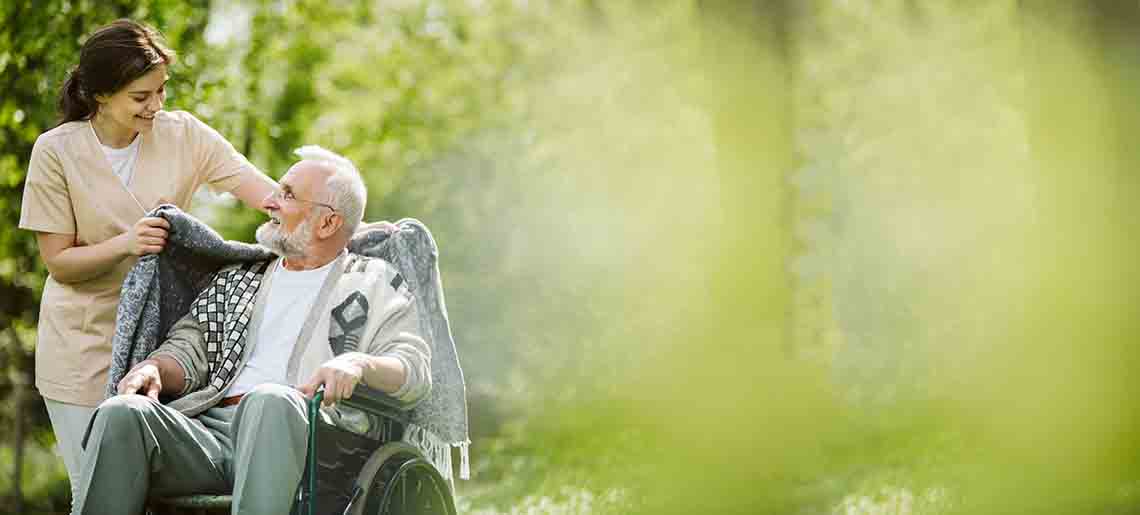 Age catches up with all of us and there is no way of escaping it. All we can try to do is to help the elderly live with dignity in their old age. They need to feel wanted and yearn for companionship. After spending the better part of their life managing their career/ profession, they reach a point where even handling themselves becomes an onerous task.

Due to age-related issues, their faculties weaken and their mobility becomes restricted. These factors, coupled with the loss of near and dear ones can shake their mental frame as well. The feeling of helplessness and the fear of becoming dependent on others makes them despondent.

Children may or may not be living with them. The reasons could be many but the struggle of parents living alone in their old age is real.
How can we help the elderly live a dignified life? What are the possible options for senior citizen care? Let us understand their needs first.
TREAT THEM WITH COMPASSION
You must treat them with kindness and respect. Avoid speaking rudely to them just because they can't walk properly or they are hard of hearing or have become forgetful. Remember, just a few years back, they were leading independent, active lives and managing their household.

Due to advancing age, they may have weaker mental faculties or have become physically weak. Don't get worked up while talking to them and make them feel small. They may be suffering from an illness or recuperating from an operation. If you have difficulties in handling their needs because of work constraints or other personal matters you can look at the option of elder care home services. Let professional caregivers take care of their needs. Do not abuse or insult them. They need you to help them cope with old age, something that none of us can escape from!
LET THEM HAVE A CHOICE
Yes, they are old and they need help with managing their personal needs. That doesn't mean they no longer have a say in what they want to eat or wear or where they want to go or what they want to watch. Avoid treating them like kids and forcing them to obey your choices.

Ask them what they would like to eat and prepare their favourite food. While laying out their clothes ask them what they would like to wear. While turning on the TV, check what they would like to watch. Don't force them to watch your favourite show. They may not be able to enjoy it. While taking them out for a walk, check what they would like to do for the day.
If you feel this is a demanding task and you do not have the time to indulge, you can hire home attendants for elderly who will be an all-day companion, looking after their daily needs and providing them with the human companionship that they yearn for.
LOOK AT THE OPTION OF OUTSIDE HELP
There is no need to feel guilty if you do not have the time to give your parents the care and time they deserve. It could be the nature of your work; you may be living in different cities or you may be going through an upheaval in your own life. There is no point beating yourself up. It makes more sense to find home assistance for the elderly so that they are well taken care of in your absence.

Samvedna Care provides elder home care services in Delhi, Gurgaon and Noida where professional caregivers can take care of the needs of the elderly and ensure that they are looked after.

BE CONSIDERATE AND PATIENT
Old age is considered to be a second childhood. The elderly need to cope with slower body movements. Their hands may shiver while holding a spoon. They may be sloppy with the food at times or drop things. They may throw a tantrum at times like a child. They handled you when you did the same things as a kid. Now it's your turn to take care of them. They may lose control over their bladder and bowel movements. So it requires you to be kind and patient. If you find it difficult to handle their needs, you should look at old age care at home options where train home attendants can take care of them.
LOCATE A SUPPORT GROUP
Taking care of the elderly around the clock while juggling other responsibilities can be quite frustrating and draining for the caregiver. It can lead to irritability, lack of energy, guilt and fatigue. This may lead to treating the elderly with less dignity and respect.
If this is happening, you should not ignore the symptoms. You should join a support group where you can vent your feelings and share your thoughts with other caregivers who can show empathy. You can talk to a counsellor and discuss your issues with them without being judged.
Samvedna offers counselling for caregivers and organises group workshops.
This will help you to deal with your situation better and the elderly will also get the care and respect they deserve.
Whether they need all day supervision or just need support with exercise and household activities, you can find a suitable elder care package that meets their needs.
In the twilight of their lives, the elderly expect some support and kindness from their family and they deserve to get it.
It is best to find the right professional solutions for elderly home care instead of letting them fend for themselves. This would give you peace of mind and they will also find it convenient to have some professional help around to help them manage their daily lives a little better.