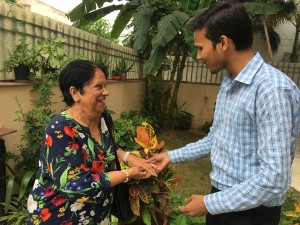 We all love our independence in living our lives – the independence to do things, the way we want, whenever we want. Majority of seniors take pride in being able to manage their homes and activities of daily living on their own, however, sometimes this independence is lost due to circumstances beyond control like a – fall, stroke, fracture, surgery, arthritis or other chronic ailments. They are unable to perform day to day activities like taking medications on time, cleaning the house, meal preparation, personal care, health care, etc.
Over a period of time this becomes very frustrating and inconvenient both for the elderly and the family caregivers.  As hard it maybe, it is best to accept the changing physical conditions with dignity and seek help through professional health workers or care attendants to help look after the elderly.
So how does one decide where and what type of attendant to look for? There are so many options available today from unorganized to organized caregivers. How does one decide whether to hire  a personal attendant, nurse, semi- nurse and what really is the difference between them? There are thousands of health care attendants who can meet one's requirements but a professional attendant must have some essential qualities to perform their job function smoothly, with compassion and care.
A personal care attendant is typically a high school pass out with some certification in caregiving, a nurse is a qualified graduate with experience working in hospitals and is able to administer medical care to the patient like injections, I/V, keeping track of vitals like BP, sugar and medication management. A semi nurse can be tricky, these are typically nursing students or care attendants who have learnt medical care on the job. So one must choose carefully depending on the situation and needs.
Besides this, there are some of important soft skill to look for in a care attendant or nurse:
Patient-Focused:

The care attendants must have an eye for detail and should be focused on making the patient feel comfortable.  While selecting an attendant make sure you are clear about your requirements while also keeping in mind the elderly's likes and dislikes, his/her life style and health conditions. Share this in detail with the companies/ agencies providing the attendants.

Patience:

Irritation and short temper does not work well with caring for the elderly. Seniors move more slowly, have trouble achieving simple tasks, and are often affected with illnesses that affect brain functioning hence attendants need to be patient. The attendant should understand that there can be changes in plans, things may not go quickly as planned and there may be little hesitation at times on the part of the person receiving care.

Balanced and hands-on: While appointing

an attendant ensure that the care attendant is in a good state of mind, he/she is well aware of the problem/issue of the patient. It might be worth checking the attendant's past experience in handling difficult situation and his/her ability to understand verbal and non-verbal cues from the elderly.

Punctuality:

Since your personal routine will be dependent on the attendant's arrival and departure, punctuality becomes critical. Always try to source attendants from nearby locations in order to avoid travel and transportation hassles.  Ensure that your attendant is well-rested, a good night's sleep helps to better cope with the demanding tasks of caregiving.

Empathy

: Seniors are at a state where they don't want pity from others and at the same time they don't want a care attendant who ignores their emotional needs. A good attendant must respect the needs of the elderly to be independent but at the same time be tactful in knowing when to take control. Look out for these qualities of compassion and care – a detailed interview, a reference, training feedback can help here.  

Responsible:

 Make sure the attendant can help you setup a routine for the elderly, now this may take some time, so tread with caution and don't stress your loved one or put too much pressure on the attendant. Help with a routine chart for medicines, meal timings, personal care activities and socializing routine. Make sure your attendant has all the important numbers to call in case of emergencies. Give specific instructions for situations you may want to be alerted about of your loved one.  

Communication Skills

–

Good communication and good understanding of language will help to start a conversation with the patient. Most attendants should naturally enjoy helping others and should have gone through special trainings on how to give attention and care to elderly.
Language shouldn't be a barrier, request for someone who may have working knowledge of your native language, if possible. An attendant from your language and culture can really help  build a good relationship and will help your loved one in expressing themselves freely.
Reliable:

While hiring a care attendant check valid identification proof for example- Aadhar Card, Pan Card or Voter ID Card. If possible ask the care company/agency to provide references on shortlisted candidates.
Finally we have some tips for you to make your relationship with your caregiver most productive
It is important to give some ownership to the attendant/nurse and allow him/her to make small decisions on your behalf.

A mindful caregiver may have his own way of handling the elderly, given him/her some leeway to build rapport with your loved one.

Acknowledge the help you are getting by the care attendant, it's a tough job and a little appreciation can really help boost their self-esteem.
The care attendant and patient relationship is not just based on performing of tasks and responsibilities but also one of companionship and trust. A caregiver will play a significant part of the life of a senior aging at home. Caregiving can be rewarding knowing that they provide help and support for someone who isn't able to do that all by themselves. They are here to make life easier, better, happier, and more fun for seniors. And these special qualities are what make all the difference between an average care attendant and a professional care attendant.
Samvedna Care's trained in-home attendant service brings to you verified attendants and nurses, specially trained by specialists in elder care and dementia. Our staff is trained to not only take care of your elderly loved one's physical wellbeing through top class personal care and nursing, but also their emotional wellbeing.  The attendants are monitored by our Senior Care Specialists (psychologists and MSWs)
Our service is available across Delhi, Gurgaon and Noida. We offer both male and female attendants as per request, for 12 and 24 hour shifts.
Know more about our Trained Attendant Services here-Caregiver Services
You can also call us on 98184 00561 or write to us on contact@samvednacare.com.
---
Samvedna Care was established in October 2013 with two primary goals – dementia care and active ageing. Our aim is to cater to the intellectual, emotional and physical wellbeing of seniors in Delhi NCR. We help them live happy, active and independent lives, in the comfort of their home and community through interactive caregiving.
Our aim is to provide quality home care services to seniors with limited mobility or dementia, and to facilitate stimulating community interaction and participation.