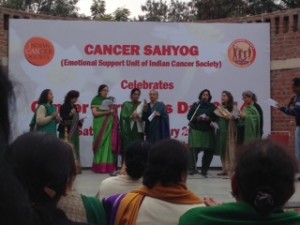 On 8th, February 2014, Samvedna Care was invited to attend the Cancer Survivors Day at Dilli Haat, New Delhi.
One of our members from our Senior Citizen's centre is a survivor, member, volunteer in this organization. Men, women and little children gave stunning music and dance performances celebrating life. I was particularly impressed by the solo dance performance on the 90s hit " dil hai chota sa…" and the Cankids performing to the song " naani teri morni ko mor Le gaye…"
It was inspiring to hear the cancer survivor stories and how some of them battled the disease not once but even 2-3 times. As one of the young girl aged 14 shared her story and said cancer is like sardi, jukhaam it will go away.
The jest to celebrate and live life to the fullest was visible all around. We at Samvedna Care salute the Cancer Survivors and their spirit, courage and determination.
We too believe in living life to the fullest and everyday our motto is to live by our tag line " Assisting Seniors Live An Active Life Style"