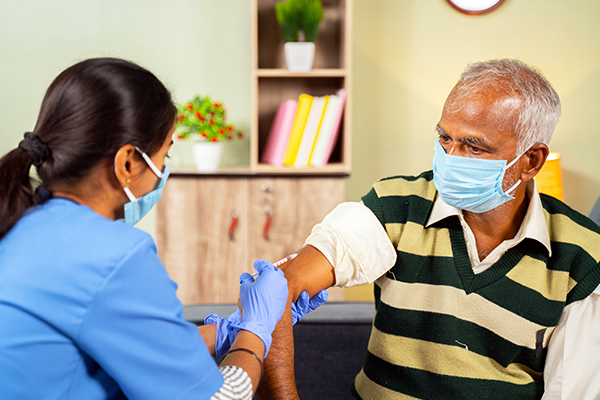 While the world is dealing with the aftermath of the second COVID-19 wave, the third wave has already gripped the country with rising cases. COVID 19 has shown us unprecedented times and everybody has had to adjust to the new normal and all its demands. From taking all the Covid precautions and following all Covid protocols to juggle work and life, and taking care of others – the human capacity for endurance has been stretched and tested and yet many have emerged as the true beacons of humanity in these times. However, it has also been a very difficult time for those staying away from home, with ageing parents and other seniors left behind. The lockdown, constant worrying and lack of mobility have made life especially difficult for the elderly, as they find ways to manoeuvre everyday life during this pandemic.
With the Covid restrictions in place, the seniors face many challenges tackling their everyday work. From getting essentials and supplies to going for doctor's appointments – the new normal has posed many problems for those who are not as virtual-world friendly. This is where nursing care and attendant services step in. When you sign up with a trusted senior care program or services, you help the seniors lead a more independent life, with some help. Nursing care services at home in Delhi like Samvedna Care offers a myriad of home services for the elderly. Their attendant services in Delhi enable the seniors to get their prescriptions refilled, schedule virtual doctor appointments and even get help in their daily activities like getting essentials or getting some exercise. The trained professionals at Samvedna Care take utmost care during these times to ensure the safety and health of the seniors.
As the third wave of Covid arises, new restrictions come into place and make daily visits not only difficult but also a health hazard. Thus, at-home services like those offered by Samvedna Care, are the best option for the elderly in your family if you are living away from them. Even in families where the grown children stay with the elders, a full-time attendant or caregiver can still be necessary for the elderly. With the increased pressure of balancing work and life chores, not everyone can offer devoted time to those in need. With attendant services in Gurgaon and Delhi, you can take care of the elders both remotely and in person. As people get older, they may be afflicted with poor physical health, restricted movements and even mental health issues like dementia or depression and more. In all of these cases, you would require a trained professional who is adept at dealing with the patients and their symptoms. From taking care of their everyday needs to engaging them in mentally stimulating activities – these caregivers are well-equipped to give the elders a healthier tomorrow.
While you can sign up for at-home services, and offer the seniors some help and companionship, you must also take into account any need for emergency care and be prepared for the same. With Samvedna Care, you can have peace of mind as their ambulance services and other emergency measures ensure the health and safety of the seniors and keep their needs at the heart of what they do. This is also a time that the seniors may feel lonely or depressed as they maintain social distance and do not step out as much as before. The nursing care and attendant services are also equipped to deal with the same and can set up hobbies or games with the seniors and organise virtual socialising sessions that offer some much needed social time for the seniors.
Apart from taking all these into account, today's caregivers are well versed in Covid protocols and take all the necessary measures like washing hands, wearing masks and being vaccinated to ensure the complete safety of the seniors. The caregiver programs are upgraded as per the new requirements and the professionals are trained at regular intervals to stay updated on any new measures or mandates. Moreover, the caregivers and attendants are given adequate training on maintaining their own physical and mental health, so they are always in the best shape while taking care of seniors. As the pandemic and lockdowns took a toll on everyone's mental health, it is important to be in a calm and peaceful state of mind before taking care of others. Armed with a deep understanding of age-related issues and their treatment, the caregivers and attendants are the best way forward for taking care of the elderly in the Covid 19 third wave.