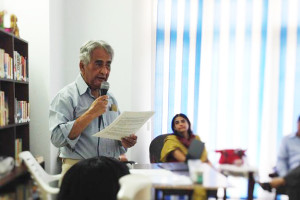 Our Senior Care Specialist Kunzes has listed some ideas to help seniors stay engaged after they retire.
When a person retires, a new stage of life begins. In some ways its good, as it gives the senior time to relax, live without deadlines and pursue their hobbies and interests. But at the same time, a life without a regular routine or idleness starts worrying them as the days pass by. Having a purpose can add life to the years of aging parents. With retirement often our elderly parents suffer from a sense of role-lessness, which further adds on problems like isolation, depression, withdrawal and other health issues.
Older retired parents can keep the excitement in life alive by engaging in purposeful activities, and set new goals for themselves. They can also make time for their hobbies which was earlier sidelined because of other important engagements and responsibilities.
We've put together a list of ways to help seniors stay engaged post retirement:
1. Freelance opportunities and consultancy:
There are unlimited opportunities in freelancing and consultancy for seniors where they can use their years of experience and expertise, especially in IT/Banking/Editorial. All they need is a computer with an internet connection, and they can get started.
2. Turning a hobby into a source of income:
We all have hobbies and talents, but often with busy lives, we don't get the time to take them to their potential. Post retirement is a good time to pursue these hobbies and even generate some income with them.
3. Teaching:
Teaching keeps you young! The enthusiasm of children rubs off on teachers and at the same time the profession challenges them and keeps them on their toes.
4. Administration opportunities:
The seniors can take up administrative jobs which include overseeing day-today requirement of a company, co-ordination, mentoring, arranging interviews and so on.
5. Volunteering:
This is a great way of staying engaged and giving back to the community. It is fulfilling and also adds to the self-worth of the elderly.
6. Writing and blogging:
Seniors can share their experiences and knowledge, and inspire others. Its can be a good idea to introduce them to technology and help them start a blog and reach out to people.
7. Marketing:
When it comes to marketing age doesn't matter; all you need is a good social network and good communication skills.
8. Sky is the limit:
There is no limit if the senior is has an open mind and is ready to explore. There are so many things to try and experience in this world!
Money may not be the only deciding factor for our parents to take up a work. They can take up something that helps them retain their independence and at the same time keep their interest in life alive. After all age is just a number, the spirit of living is all that matters!