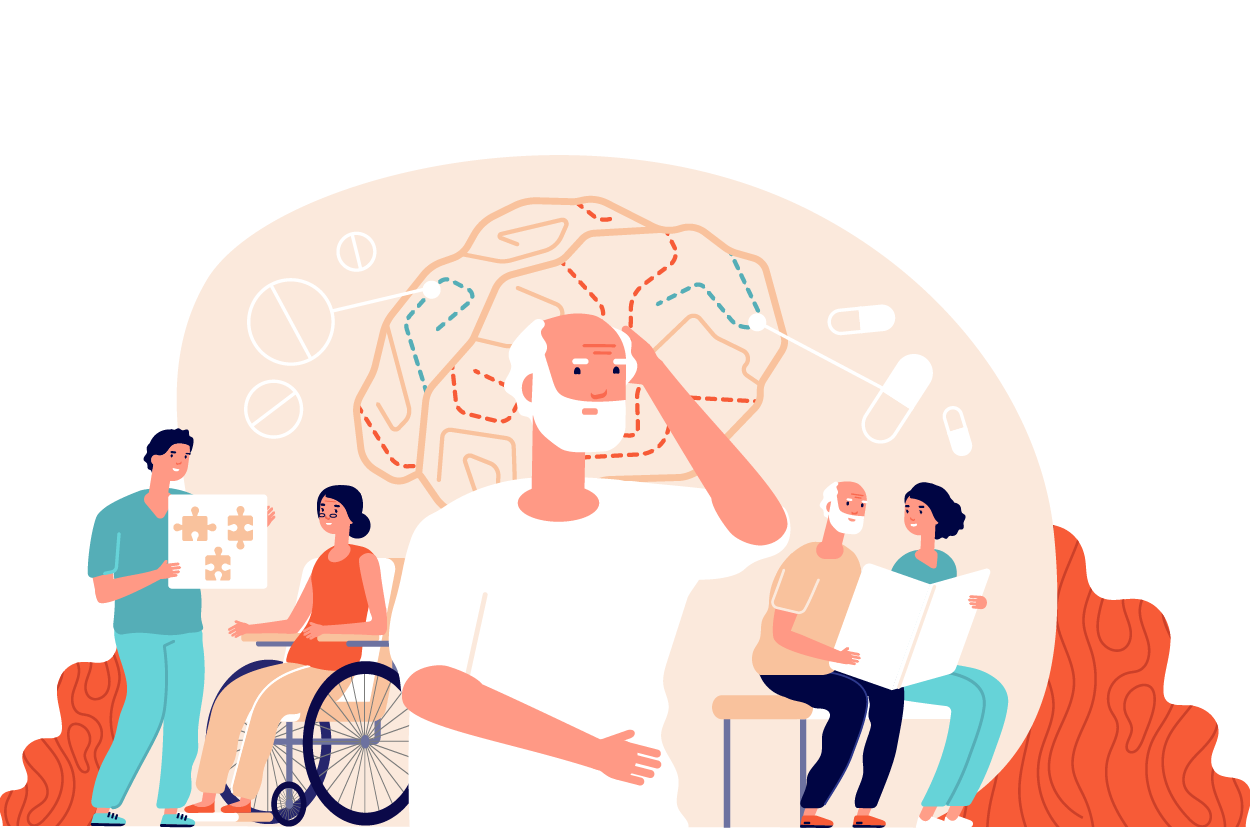 Mental health has been in the minds of the people in the recent past and it has been an uphill journey towards the same. With celebrity suicides, public figures talking about mental health and awareness talks, the world is slowly but surely inching towards a more open environment where such discussions are not considered taboo anymore and awareness conversations are encouraged rather than being stubbed. Mental health is as important in anyone's life as in senior care, perhaps even more so. Today, more and more elderly care centres are choosing conversations and exercises for mental health and for good measure. As proven in today's world, open communication about mental health should be a part of everyone's journey. However, there are plenty of reasons why mental health in elderly is even more important and thus raising awareness about the same, becomes crucial.
As compared to the younger generations, the previous generations had very little or negligible exposure to conversations around mental health and many issues, which are treatable and normal, were brushed under the carpet due to lack of knowledge. There are many reasons why mental health services for seniors are of paramount importance. As the younger generations move away for education or work, the older generations may feel an empty nest syndrome and become lonely or depressed. This is also the time when they themselves retire and suddenly find themselves with plenty of time and very little to do. As was common in their generations, they worked hard towards providing for the family and securing the future, thus leaving very little room for their own growth or interests. Even in families where the seniors stay with the younger generations, problems of the intergenerational relationships may creep in like a gap in communication or even the feeling of being left behind due to technological challenges. Thus, in these circumstances it becomes even more important to focus on the mental health of the elderly.
Apart from the general feeling of being left behind or loneliness, one must also remember that the older generation is physically ageing as well. While some seniors may lead an independent life, others may need assistance even with everyday chores. This sudden dependency on others can be a blow to their confidence and cause undue anxiety. As they age, they may have difficulties with mobility, vision and much more. All of these can cause anxiety and thus create problems in even their social circles. Moreover, as they age, they may see their peers in friends and family, slowly getting sicker or even dying, which can make them feel more depressed and lonely. As we have learnt, all these mental health concerns of loneliness, depression and anxiety are not weaknesses and should not be ignored. When left untreated, they can worsen over time and also impact the physical well-being of the seniors. Thus, it is important to keep an eye out for any changes in their behaviour and encourage them to speak up about their feelings so you can treat the conditions and help them lead a happier time. As soon as you notice any signs of these illnesses, it is important to schedule a counselling session or meet with a mental health expert to discuss the way forward.
Apart from these conditions, there are other mental health conditions like Dementia, Alzheimer's and more that can affect the elderly in their old age. Signs of memory loss, lack of coordination, a general sense of disorientation, sudden bouts of irritability, an overall lack of confidence, difficulty in forming, finding words or remembering places – there can be many symptoms of the onset of any of these illnesses. Thus all these symptoms of rather any noticeable changes in their behaviour should be noted very carefully. If you feel your seniors have any of the symptoms or are behaving differently, you can opt for a psychological assessment for the elderly. The professionals can help diagnose the problems and refer to adequate treatments. With a timely intervention and other methods like mentally stimulating games and puzzles, socialisation circles, caregiver programs and more, it is possible to slow down the degeneration and in some cases even reverse the conditions to a certain extent. All these efforts will ultimately help your loved one lead a more confident, happier and healthier life. If you are the youngest member in a family, remember to stay in touch with the elderly regularly to keep loneliness at bay and also to engage them in conversations and activities. By being in touch, whether virtually or physically, you will not only make them happier, but also notice, diagnose and treat any mental health illness, if any.