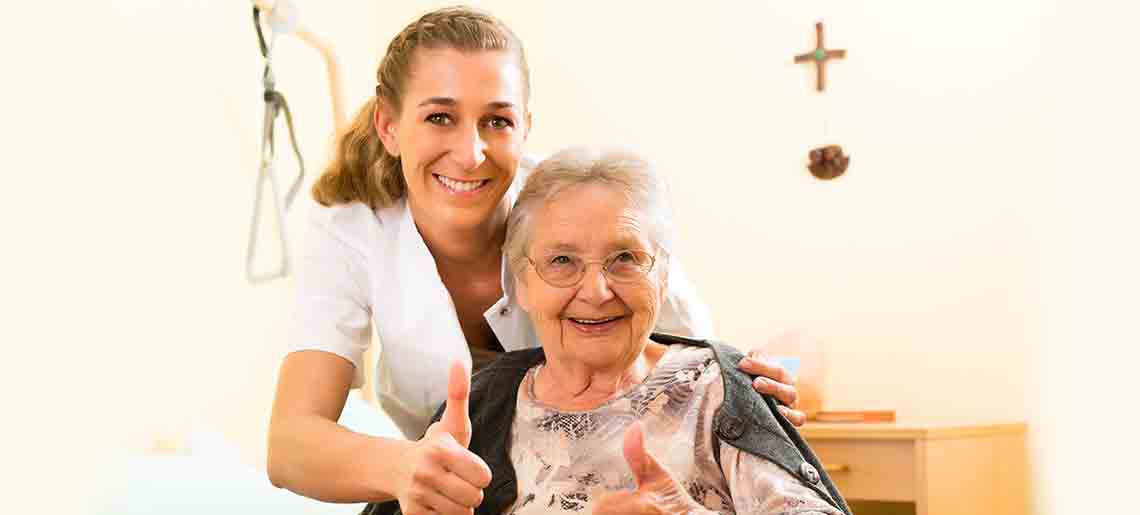 Old age brings with it several health ailments that forces elderly citizens to be dependent on others. With the pressures of work, children find it difficult to take care of parents or elderly relatives round the clock. While old age homes can claim to be solutions, not everyone wants to send old parents to an external facility to be cared for. Here is where home attendants for elderly becomes a viable alternative. If you are in the NCR region, you can avail professional nursing services at home in Noida, Gurgaon and Delhi from Samvedna Care.
Researching home care nursing services for the elderly isn't easy. There are so many things to factor in, and to actually find a home attendant for the elderly that they like is more challenging than you may think. This is why Samvedna's at-home nursing care services in Delhi provide only the best and most trained caretakers.
Samvedna's caretaker services for elderly in Delhi ensure that they can stay in the comfort of their own home and still enhance their quality of life.
How Exactly Do Home Attendant for Elderly Help Them
Samvedna Care with its nursing services in Delhi, as well as home attendants for elderly in Delhi, is the best way to provide your loved ones with the care they need in their old age. But if you're wondering how exactly do home attendant for elderly help them, here's how:
Home attendants provide the elderly with the support they need in the comforts of their home
If you were to avail a home attendant for elderly in Noida or home attendant for elderly in Gurgaon, your loved one can stay in a place that is most comfortable and familiar to them while also being taken care of professionally. To be able to sleep in their bed, use their bathroom, and continue with their daily routines means more to them than you may understand. Being in a familiar or known environment can be especially beneficial for those suffering from progressive conditions that affect the memory such as Dementia.
Being taken care of in a familiar home environment helps to heal them faster and keep their spirit alive. Home attendants can assist the elderly with their mobility. They can help them to perform their daily chores and manage their medication doses. In case the elderly are living alone, the home attendants can handle their housekeeping , stock up their groceries and medicines, take care of their personal grooming, accompany them on their daily walks,etc.
Home attendants and personal caregivers expertise in one-on-one care and companionship
Samvedna Care's nursing services in Noida, Delhi and Gurgaon assure you that your loved one will receive specialized, one-on-one care when you have an aide come to the house. The personal nature of home care allows the elderly to be the primary focus of the home attendant. A home attendant's very job is to provide a level of attention and care that ensures your loved one is safe and feels comfortable.
The home attendants for elderly provided by Samvedna Care are well trained to handle the needs of elderly citizens.The elderly who often experience social isolation and feelings of loneliness get to see a familiar face, experience friendly conversations and a meaningful human connection. All of these things have a major impact on the overall health and well-being of seniors.
With home attendants to support them, they can still participate in the activities they love
The elderly enjoy spending time in their vicinity, be it a walk in a nearby surrounding, or just spending some time at the park, these activities bring the elderly a lot of joy and calm. With Samvedna Care's nursing services in Gurgaon, the elderly can stay in their home and still do these activities with the help of a home attendant.
Trained home attendants can handle the needs of the elderly, be it assisting them to eat and go to the toilet , giving them medications on time, testing their body vitals, accompanying them on a walk, reading to them etc. With Home care Nursing Services, the elderly can live independently with some assistance. This gives them a sense of mental peace which would be impossible in an old age facility.
Home attendants help improve the quality of a senior citizen's Their quality of life will be improved and expedite the recovery
Employing a home attendant for the elderly lifts them from their struggles immediately. The home attendant's goal is to make the life of the elderly simpler in any and every way possible. The quality of life is better for the seniors as they feel calmer, more relaxed knowing they don't have to worry about handling the everyday challenges all by themselves. Samvedna Care is known to provide some of the best and cost-effective home attendants for elderly in Delhi, Noida and Gurgaon. Choosing professional nursing care services relieves children of the guilt trip of leaving their parents uncared for. Having a home attendant for the elderly is a safe and viable substitute as they can take care round the clock in familiar surroundings.
Home attendants don't hinder the independence of seniors but enable it
The loss of independence concerns most seniors who consider care options. A huge advantage of home attendants for elderly is that your loved ones maintain control over many aspects of their daily life. Not only do they get to continue living according to their schedule but also receive assistance when they need help with their diet or want to socialize. What's more, the home attendants for elderly in Delhi from Samvedna Care are trained to keep the seniors engaged in activities to make sure the elderly are active and joyous.
These are only some of the ways home attendants help senior citizens, and there are plenty more! Samvedna Care, with its nursing services in Delhi and home attendants for elderly, takes a holistic approach to senior citizen care, and benefits them in ways more than one!
Samvedna Care endeavours to provide cost effective nursing services at home in the NCR region that can improve the quality of life of senior citizens as they deal with the twilight phase of their lives.