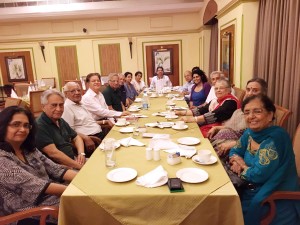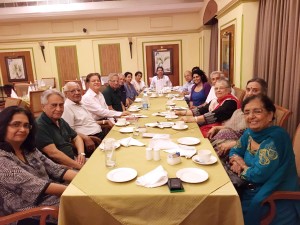 Social interaction is one of the most important needs of human life. Man is a social animal and we all need to be socially active and have meaningful engagement. The joint family system gives people the opportunity to meet their socialization needs within the family. But now slowly the joint family system is reducing in India and more more people have started living in a nuclear family.
Senior citizens tend to lose their means of socialization post retirement as the avenues to meet new people decreases after a certain age. From an early age, spending a considerable amount of time in raising children and earning a livelihood leaves them in the company of others, but however, in the later stage, it has been proven that senior citizens are prone to social isolation and dejection as compared to middle-aged couples.
Socializing or social interaction among seniors has enormous benefits –
1) Health benefits – It helps the elderly to reduce his stress level. A good conversation or the things they love to do with others helps them in attaining a health promoting chemical which boosts the immune system. Moreover, Socializing promotes an active lifestyle which in turn keeps diseases at bay.
2) Better mental health – Social interaction provides seniors opportunities to engage seniors in stimulating and purposeful activities. This results in enhancing their mental health. Research has proven that social isolation is one of the leading causes of depression in seniors. Loneliness can easily turn to feelings of worthlessness and despair. Interactions and conversations play a very important role in controlling negative thoughts, thereby ensuring mental well being.
3) Sense of belonging – Enjoying the company of others who have similar personalities or interests helps us feel like we belong somewhere. It is very common for senior to feel lost in this fast paced world and unable to cope with the ever changing things, in such a situation the need to belong or feel connected is more. Socializing with others can cultivate new friendships, and doing something meaningful together helps create lasting bonds.
4) Increased Cognitive Functioning – Socialization is a key to keep the brain sharp as we age. Having an active social life encourages us to continue learning, observing and responding to the world around us. Conversation and activity are great for exercising the mind and can potentially lower the risk of dementia and Alzheimer's disease.
Ways to remain socially connected-
People choose their ways of staying socially connected according to their interest. Some of the common ways to remain socially connected are –
1) Social Outings – The traditional method of socializing among seniors is to have face to face interaction through social outings. They go out with their family and friends and spend quality time together. They spend time discussing their lives, their problem with their caregivers and it helps them in problem solving and attaining peace of mind. But due to busy schedules this is becoming less of a priority for people.
2) Community Outreach programs – Volunteering for charity or in the local community is also a great way for seniors to get socially connected. The energy, vibrancy, skills and talents of seniors in our society is valuable and needed. They can spend time in doing volunteering to have meaningful engagement.
3) Social Networking – With changing time, the ways of social interaction are also changing. The world has turned to technology to stay engaged and connected. Encourage seniors to learn how to use social networking sites like Facebook, Twitter and Whatsapp to maintain social relations. The usage among those 65 and older has tripled worldwide since 2010.
4) Senior Clubs/Activity Centers – Apart from social networking sites, clubs or activity centers is another way of meeting new people. A club is basically a socializing platform for people where they make new like-minded friends, and learn and experience new things.
---
Great Times by Samvedna is our new social and recreational club in Sector 43, Gurgaon, for members 55 years and above. Its a place where members come to get fit, meet like minded people and share their life experiences and give back to the community.
Activities at the club include fitness exercises, mind stimulation, tambola, dancing, book reviews, movies, community outreach, and talks on health management. The club has a library, computer room, visits by physiotherapists and doctors, access to board games and cards, a fully functional pantry with healthy and affordable snacks and tea and coffee on the house.
Transportation is available on select routes. There are special discounts for group memberships. The club is open Monday-Friday, 11am to 4pm. There are special classes for yoga, computers, spoken english, dance, music and painting. We also have Bridge mornings every Tuesday and Thursday.