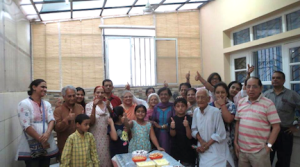 We know how important it is to stay physically active, but are we aware of the importance of being socially active and its benefits, specially as we age? Social contact can be just as effective as exercise at improving our mood and quality of life. If we aren't maintaining social interactions, we may be putting ourselves at risk for depression or even dementia.
Research has shown that social interaction offers older adults many benefits. Below are some of them:
1) Lower blood pressure and stress: Stress and isolation have a direct correlation with poor health and a shorter life span. Being social relieves stress.
2) Boost immunity and health: An active social life can boost your immune system and improve your nutrition, since you tend to eat more when you're around others.
3) Reduce risk of diseases: Being socially active has been found to potentially reduce the risk for Alzheimer's disease, cardiovascular problems, osteoporosis, rheumatoid arthritis and even some cancers.
4) Improve memory: Staying socially active can not only help you maintaining good physical and emotional health, but also helps in improving memory and keeping your cognitive functioning strong.
5) Sense of belonging: Not only does interaction with peers lead to a sharper mind, but it gives you a sense of belonging and keeps you connected to the world around you.
6) Reduce risk of mental health issues: Seniors that socialize with others regularly are less likely to become depressed.
7) Improves attitude: Meeting more people broadens our world view and in turn improves our outlook towards life.
Social activity is vital to seniors for their health and mental well-being, and it is important to make an effort and find avenues for it.
——-
Great Times by Samvedna is our new social and recreational club in Sector 43, Gurgaon, for members 55 years and above. Its a place where members come to get fit, make new friends and share their life experiences and give back to the community.
Activities at the club include fitness exercises, mind stimulation, tambola, dancing, book reviews, movies, community outreach, and talks on health management. The club has a library, computer room, visits by physiotherapists and doctors, access to board games and cards, a fully functional pantry with healthy and affordable snacks and tea and coffee on the house.
Transportation is available on select routes. There are special discounts for group memberships. The club is open Monday-Friday, 11am to 4pm. There are special classes for yoga, computers, music and painting.
Call us for more info – 9818421446, 0124-4229659 | Address – Great Times, 1304 St. Thomas Marg, Sector 43 (Opp Shalom Hills School), Gurgaon