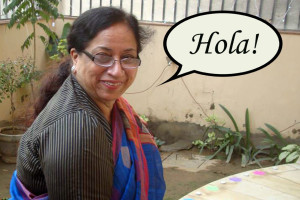 Learning a new language at an older age can be like opening a door to another world, one in which both the social and cognitive faculties are refreshed and invigorated. The greatest obstacle to older adult language learning is the doubt in the minds of both learner and teacher if older adults can learn a new language, but it's vital to realize that it is absolutely an attainable goal. Those who cast aside doubt and embrace the benefits are guaranteed to find success, often sooner than they expect.
The benefits of learning a new language seem, in fact, to be proportional to the effort expended by the brain. Understanding language is one of the hardest things your brain does. Because language is complex, speaking or learning a foreign language gives your brain a good workout. Learning a second language offers proven benefits for intelligence, memory, and concentration. MRIs revealed that they developed better connectivity between different regions of their brains.
Cognitive benefits: With age comes a growing concern for the health of one's mind. There are an estimated 46.8 million people living with dementia around the world and 4.1 million people living with dementia in 2015 and as yet there is no treatment for it. But learning a second language might just be one method of prevention. A 2012 article in the UK's "Telegraph" suggests that studying a second language "rewires" the brain, and could help delay the onset of dementia for years. People who speak two or more languages have significantly better overall cognitive abilities than those who speak one
Social benefits: Signing up for a course in the locality or joining an online community is a great way to meet new people and make friends. Sharing the same interest in a language and culture is an ideal starting point for conversation, plus a consistent demand for review prompts plenty of excuses for extra – curricular meet-ups.
Builds confidence in your ability to learn: We think that ability to learn something weakens dramatically as one gets older. Now, neuroscience has discovered a peculiar phenomenon called neurogenesis. Basically, the brain does not stop growing and developing after a certain point. Neurogenesis (the spontaneous growing of new brain cells) can occur at any point in your life. But neurogenesis can be spurred on by various activities, a key activity being learning new things like a second or third language. When you learn something new, your confidence and ability to learn something else grows, too.
Learning a new language can be useful if you enjoy traveling in retirement: After retirement, one has the time really enjoy traveling and adventuring. It's really best to pick a language that one may have the possibility of using in an immersed environment.
Research shows that bilingual children use the same brain regions for both languages if they are learned during childhood, whereas learning a second language later on in life recruits different regions from those involved in using one's mother tongue. And learning a foreign language, much like learning to play a musical instrument, does indeed appear to be a good way of exercising one's brain, and keeping it healthy, throughout life.
——
Great Times by Samvedna is our new social and recreational club in Sector 43, Gurgaon, for members 55 years and above. Its a place where members come to get fit, meet like minded people and share their life experiences and give back to the community.
Activities at the club include fitness exercises, mind stimulation, tambola, dancing, book reviews, movies, community outreach, and talks on health management. The club has a library, computer room, visits by physiotherapists and doctors, access to board games and cards, a fully functional pantry with healthy and affordable snacks and tea and coffee on the house.
Transportation is available on select routes. There are special discounts for group memberships. The club is open Monday-Friday, 11am to 4pm. There are special classes for yoga, computers, spoken english, music and painting. We also have Bridge mornings every Tuesday and Thursday.
Know more here – Great Times Club