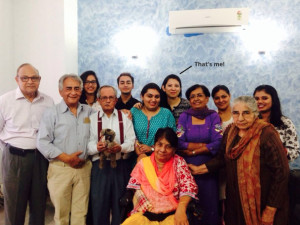 Geriatrics, being a niche field, was not a part of our psychology course curriculum in college. So while studying I didn't get much of an opportunity to understand the psyche of people above 60. Like most students, I too was inclined to work with people struggling with addiction or Autism.
However, an experience during my internship with an NGO working with seniors made me curious to know more about the behavior of the elderly. My work involved interventions for geriatric patients with psychosis, specially those with Schizophrenia, Alzheimer's and Bipolar mood disorder.
During my interaction with them I observed that there is no one set of symptoms or behavior that can be used to define any of these conditions. Each patient is an individual and any form of interpersonal therapy that we give needs to be molded in unique ways in order to benefit them. Also I found working with the elderly challenging, as we are working and assisting people who are much senior to us not only in terms of age, but also in terms of experience and knowledge.
I have been working in this sector for 2 years and joined Samvedna  Care last year. Working in this industry I've come to see that there is a major dearth of resources and initiatives in the care for seniors. This has motivated me further.
In this field I get to interact with people who have diverse views and perspectives. The range of experiences has helped me grow as an individual. This profession has been very satisfying for me as it challenges me and at the same time gives me a chance to make a difference in the lives of our elderly.