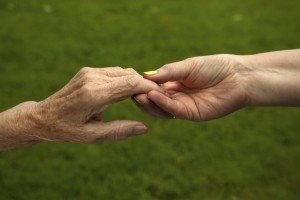 Telling a person with dementia that someone they love has passed away can be a very emotionally draining task. The person may have to be told again and again, may still be shocked and may mourn the loss seemingly for the first time, more than once.
Truth versus Lies
If someone they love has passed away, the person with dementia ideally deserves to know. We may tell them with the thought that they deserve to mourn the loss of their loved one. After all, the person with dementia is still the same person with feeling, emotions and connections. Often we go on telling the person again and again that their husband or wife or brother has died, as we don't want to lie to someone we love and respect.
However, for a person with dementia, sometimes it's hard to register and remember the death. So, the mention of the death of their loved one seems to hit them as news every time they hear it. Telling them again and again makes them go through such a disturbing incident multiple times. So for the sake of their own peace and happiness we may choose to not tell them more than once or twice about the death of a loved one whether it's a recent death or it's been while.
How close was this person?
Another factor that is important while making the decision is the relationship to the deceased. If the deceased is an extremely close family or friend, such as the husband or wife of the person with dementia, whom the person expects to see on a regular basis, it may be difficult to distract the person. Helping the person remember them, showing photographs and sharing memories may help that person through the grieving process.
How severe is the Dementia?
When the disease has progressed too far, it becomes hard for a person with dementia to understand, remember or process the knowledge of death. In such a situation they may need constant reminders and may feel distressed at the knowledge every time.
They may also not process the information properly. For example, an elderly woman may feel the pain of losing a young teenage brother when told that her brother has passed away because she may remember her brother from a different time.
While many argue that the person with dementia still deserves to know, it may be a good idea to tell a person with such confusion only once or twice and then distract her.
Some tips in helping the elderly
To help them register the death

Gentle reminders that the person is no more
Reminiscing the person with them, sharing photographs and stories
Providing clothes / possessions of the deceased person as a Memory Aid
Talking about how they feel about the loss
Putting up a photograph is their visibility of the deceased as a cue
Use past tense while speaking about that person
When they can't register the death and need reassurances

Ask them how they may be feeling (missing the person, angry that they are not around, scared without them, stressed) and help them share and cope with that emotion
Distraction may help make the situation better in the moment
A person with dementia may ask you "Where is Raj" when Raj has been dead for years. You can respond by asking them "Where do you think he is?" and then agree with their version of reality. If the person thinks that Raj is at the store, that that's where he is. If she think that he is avoiding her, then you go along with that.
Consistency is important in your approach. All family member and health care professionals should communicate so as to be consistent in the information they provide to the elderly.
The death of a loved one is difficult for anyone, but it is a special challenge when someone in the family has dementia. It's hard for family members to know how and when to tell the person with dementia about the death. And what should they do when the person doesn't remember?
Coping With Losses
People with dementia have had many "little deaths" in the course of their disease — things like losing their independence and the ability to drive, read, cook, or enjoy hobbies. Memories and relationships are huge losses. These losses are stressful for people with dementia and their families.
How people with dementia cope with loss is affected by many things, including: the stage of their dementia, their relationship to the person who has died, how often they were in contact with that person, and their personal way of grieving.
Grief Process
For people without dementia, recovery from a death usually involves accepting the reality of the loss, learning to live with it, and finding a new "normal." For most, the pain of the loss can transform into beloved memories. For someone with dementia this process is often impossible.
People with dementia who are grieving are often agitated and restless. They may sense that something is not right, something is missing. They may confuse one loss with another. A recent death may stimulate the memory of loss from childhood. It can be stressful for family members to decide when and how to tell them about the death of a loved one — and even how often to tell them. Repeatedly telling a person with dementia about a death can make family members' grief more painful.
Telling About a Death
Here are some hints for telling a person with dementia about a death:
Tell the news as soon as possible. They will sense that something is wrong and need information to understand, even if just for that period of time.
If you are too emotional to talk to them, find someone else — maybe a friend or healthcare professional.
Choose a time to talk when the person with dementia is well rested.
Use short, simple sentences. Don't give too many details; this may overwhelm them.
Answer questions as honestly as possible.
Use clear words like "died" instead of "passed away" or "at peace now."
Try not to protect the person from the truth by suggesting that the person who has died is away and will return later. This can cause worry and agitation later when the person does not return.
You can support them with physical touch, such as a hug or holding hands.
Consider involving the person with dementia in funeral planning, assigning a simple task. This will help the death be more real for them. They may recognize the rituals around death and act appropriately.
Plan for someone to be with the person during services who can also take them out if they become agitated.
Accepting Death
Here are some ideas of ways to help the person with dementia accept the death:
Speak in the past tense about the person who has died. For example, "I loved Mom's holiday cookies."
Talk with them about the person who has died and express your sadness. "I sure miss Dad. He always made birthdays so fun, didn't he, Mom? Remember when he…." Bring out pictures and tell stories if this helps their grief process.
Accept how often they want to talk about the person who has died—perhaps frequently, not much, or maybe not at all.
If over time they continue to ask for the person who has died, there are some things you can do. In the beginning, gently remind them that the person has died. If reminding them becomes upsetting, you can try these ideas:
Respond to the emotion under their words, feelings like sadness, longing, fear, distress, suspicion, anger, concern, or confusion. You can respond to what you see:

"You sound really frightened (or lost, or angry, etc.) to me. Let me help you with that."
"You must really be missing her. Tell me what you miss most." Share your own feelings: "I miss her, too."

Check their mood at the moment. If the person is unaware and not distressed, you don't need bring up the reality of what has happened.
Look for patterns in the times they ask for the person who has died. Look for an unmet need. For example, if the person who has died usually brought them coffee in the morning, the change in this routine could be distressing and remind them that their loved one is not there.
Use distraction only when other ways of dealing with their grief are not working.
Each family has to find what works for them, and then try to be as consistent as possible. You may want to write out a simple plan for all family members and visitors to follow.
You can be most supportive to the person with dementia if you also take care of your own needs and get support. We encourage family members to find support to help them cope with the painful, frustrating, lonely and sad feelings that they may feel. Supporting the person with dementia takes patience, but family members should remember to be patient with themselves as well during this stressful experience.
---
We at Samvedna Care aim to help seniors live happy, active and independent lives, in the comfort of their home and community through interactive caregiving.
Samvedna Care was established in October 2013 with two complementary goals – firstly to provide quality home care services to seniors with limited mobility or dementia and hence social interaction, and secondly to facilitate stimulating community interaction and participation.
Cognitive Wellness Programme, Sector 57 Gurgaon –
Samvedna's Cognitive Wellness Programme is designed for seniors with mild cognitive impairment, early dementia or Parkinson's, and elderly lacking in enthusiasm and motivation. The aim is to stimulate the mind of the elderly to slow the progression of the disease or impairment. The sessions are 3 days a week, 11AM-1PM.
More – http://www.samvednacare.org/our-work/cognitive-wellness-programme
Our Dementia Care services are –

At-home services –
Dementia intervention activities by trained Care Specialists (already mentioned above). These services are available in Delhi NCR and Guwahati
More – Dementia Care
Please call us for more info – Delhi NCR – 98184 21446, 124 4229659 | Guwahati – 9864015872
Dementia Support Group –
Our Dementia Support group in Delhi NCR and Guwahati is a platform for caregivers to share feelings and support each other.
Please call us for more info – Delhi NCR – 98184 21446, 124 4229659 | Guwahati – 9864015872