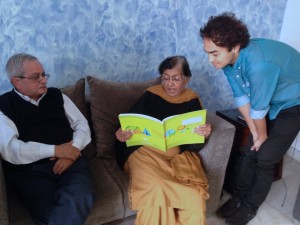 Geriatric depression is a mental and emotional disorder affecting senior citizens. Feelings of sadness and occasional "blue" moods are normal. While depression and sadness might seem to go hand in hand, many depressed seniors claim not to feel sad at all. They may complain, instead, of low motivation, a lack of energy, or physical problems.

Depression is an important public health challenge in developing countries. This problem is not new, in 1990, the World Health Organization (WHO) described depression as a major, worldwide cause of disability. In India, life expectancy has increased from 45 years in 1970 to 65 years in 2010. On account of better education, health facilities and increase in life expectancy, the percentage of the geriatric population has gone up from 5.3% in 1971 to 7.5% in 2010. An increasing geriatric population is associated with rising prevalence of chronic non-communicable diseases; therefore, the magnitude of depression is also expected to grow.
People should be alert to the early signs of depressive disorders as it impacts not only the individuals but also their families and peers. Elderly may experience different range of emotions and may behave differently from their normal self which may help one to identify depression in them. If you are a family member, friend, or health care provider of an older person, watch for clues. Most common clues are mentioned below.
• Sadness or feelings of despair
• Aches and pains don't go away even when treated
• Social withdrawal
• Weight loss or loss of appetite
• Feeling guilty, worthless, hopeless or helpless
• Lack of motivation and energy
• Sleep disturbances (difficulty falling asleep or staying asleep, oversleeping, or daytime sleepiness)
• Frequent crying spells and irritability
• Increased use of alcohol or other drugs
• Fixation on death; thoughts of suicide
• Memory problems, slowed movement and speech
• Neglecting personal care (skipping meals, forgetting medicines, neglecting personal hygiene)
Depression is not a normal or necessary part of aging. Geriatric depression can be treated, and with the right support, treatment, and self-help strategies one can feel better and live a happy and vibrant life. When it comes to elderly depression, each patient is different and requires a customized treatment approach to his or her unique needs and circumstances. Often the treatment plan will combine the following different approaches. Typical treatment involves a combination of therapy, medication, and lifestyle changes.
Medication – Most studies show that only half of people treated with medicine get better. Antidepressants influence the functioning of certain neurotransmitters in the brain. Many practitioners, under-treat when it comes to depression in the elderly. They think older adults don't need the full dose. But they do.
Psychotherapy – Therapy works well on depression because it addresses the underlying causes of the depression, rather than just the symptoms. It helps people work through stressful life changes, heal from losses, and process difficult emotions and change negative thinking patterns and develop better coping skills. Support groups for depression, illness, or bereavement are a safe place to share experiences, advice, and encouragement. Psychotherapy when combined with medication, best results are obtained.
Certain lifestyle modifications can help in managing geriatric depression. The elderly should:
• Socialize among like minded people.
• Exercise regularly.
• Be careful with alcohol. It can interfere with medicines and worsen depression.
• Get enough and sound sleep.
• Be encouraged to learn new skills.
• Keep themselves engaged in hobbies or other meaningful activities.
• Follow a healthy diet with the right nutrients.
Don't Let Your Loved One Suffer. Don't let it go untreated. If you suspect your parent is has minor or major depressive symptoms, encourage him or her to seek help.
---
Samvedna Care –
We at Samvedna Care aim to help seniors live happy, active and independent lives, in the comfort of their home and community through interactive caregiving.
Samvedna was established in October 2013 with two complementary goals – firstly to provide quality at-home care services to seniors with limited mobility and social interaction, and secondly to facilitate stimulating community interaction and participation.
Our At-Home Care Services for General Wellbeing aim to raise the quality of life of seniors through a monthly interactive programme in the comfort of their home. Our senior care specialists, who are trained psychologists and gerontologists, keep them active and engaged through physical, mental and social activities. The activities include intellectual companionship, mind stimulation activities like puzzles and crosswords, playing games, dancing and singing, social outings for coffee or mall and more.
More – https://www.samvednacare.com/home-care-services/home-care-package/elder-care
Please call us for more info – 98184 21446, 124 4229659