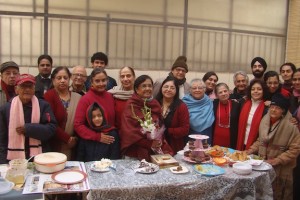 Christmas is a time to celebrate the joy of giving. Though, the really valuable gifts are not tangible gifts. The Christmas spirit is more about spending quality time with family and loved ones, celebrating, feasting and creating memories to cherish forever.
For our elders, Christmas, like other festivals, is yet another opportunity to shower their blessings and unconditional love on their family. It is also a chance for the children to make their elderly loved ones feel special and loved. No matter if we are living with them or away, we can always plan something special for them.
Here are some ways to celebrate Christmas with your elders, if you are living away from them –
Thoughtful gifts: Gifts are always a nice way to send your love. A photo album of all the best memories of the year can be a personal and special for your elderly.
Personal video messages: On Christmas eve, you can arrange for all family members to send video messages to them.
Involve them in little ways: You can make them feel involved by asking them to share their traditional recipes while baking cake or cookies for Christmas, and later send pictures of the dish to them.
Share and include them in preparations virtually: You can also start sending short videos to them in the days leading up to Christmas that keep them connected to everything you are planning for Christmas.
If you are planning on visiting your Elders, it could be fun to keep it a surprise! Here are some ways to celebrate Christmas with your elders together:
Pass down a tradition: Ask your elderly to share something from her childhood . Whether it is a game, recipe or book, sharing with the next generation rekindle old memories.
Baking:  Bake a cake or cookies and decorate them with your parents/ grandparents. Involving them in cooking, instead of making it for them, is a great way to spend quality time together.
Decorate a Christmas tree: Doing this together, by having them help you put ornaments on the tree or plugging in the lights can be fun.
Be Santa!: Ask them to write a wish list and show you care by fulfilling a few of them on Christmas. You could also be their secret Santa and hide gifts for them in different places of the house.
Surprise them:

 

your elderly by decorating their room according to the Christmas mood.
Walk down memory lane: Holidays bring back memories, and elderly often find great joy in having someone show interest in them and their past. Whether it's looking through photo albums or just sharing stories,a stroll down memory lane is always fun.
Click funny pictures: Use different props (glasses,wigs,santa caps etc) with your elderly and create a collage with the pictures together.
Share a craft : Let your grandparents teach a craft to the family members.
Christmas  Eve has always been about being grateful. This Christmas we can show our gratitude to our beloved elderly for the support and love they have given us throughout our life. Lets gift them time from our busy lives and create of special moments together!