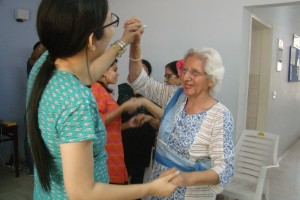 "A 68 year old lady who is diagnosed with dementia has difficulty expressing herself as she cannot find words to do so. She has slowly lost her ability to express ideas and along with it there has been a significant change in her personality. She speaks less and has withdrawn socially. The inability to express her anger and resolve the matter keeps her agitated all the time. She refuses to talk to anybody and yells at anyone who tries to approach her. She says nobody is ready to understand what she has been going through all this while."
Care givers dealing with people with such an illness need to be careful and aware while communicating, in both verbal and non- verbal communication. It is essential for care givers to understand the importance of non-verbal communication. According to research, people with dementia receive over 93% of their information about the world through non-verbal gestures. We have put together some tips to keep in mind while communicating with someone with dementia –
Verbal
Say the individual's name and identify yourself
Refer to people by their names
Speak clearly and slowly
Speak with warmth and positivity
Simplify the words and make statements instead of asking questions
Talk to the individual as an adult, not a child
Answer questions in a calm and reassuring manner
Offer a guess when the person uses the wrong word or cannot find the word
Encourage the person when they are facing trouble expressing themselves
Move at the pace of the person that is according to their time and place
Non-verbal
Make and maintain eye contact while having a conversation
Have a pleasant look on your face
Observe the actions of the person and listen to the words carefully
Do not stand directly over the top of the person and bend down to their level so that they do not have difficulty in looking up
Avoid body language which conveys frustration, anger or in a rush
Watch for signs of frustration , anger, fear and act accordingly
Physical touch, a hug or a handshake, is very important
Effective communication can make a difference and give your loved ones the much needed assurance and ensure their overall wellbeing. After all, it is not the person but the disease which is difficult.
———–
We at Samvedna Care aim to help seniors live happy, active and independent lives, in the comfort of their home and community through interactive caregiving.
Samvedna Care was established in October 2013 with two complementary goals – firstly to provide quality home care services to seniors with limited mobility and social interaction due to various constraints, and secondly to facilitate stimulating community interaction and participation.
Our Dementia Care services are –
At-home services –
Dementia intervention activities by trained Care Specialists (already mentioned above)
Day Wellness Centre, Sector 57 Gurgaon –
A place which provides your loved one with social activities and therapies to enhance quality of life, relief for caregivers, and also an alternative to institutionalized care.
Dementia Support Group –
Our Dementia Support group in Delhi NCR is a platform for caregivers to share feelings and support each other. We meet once a month at the Samvedna Senior Centre in Gurgaon.
Please call us for more info – 98184 21446, 124 4229659