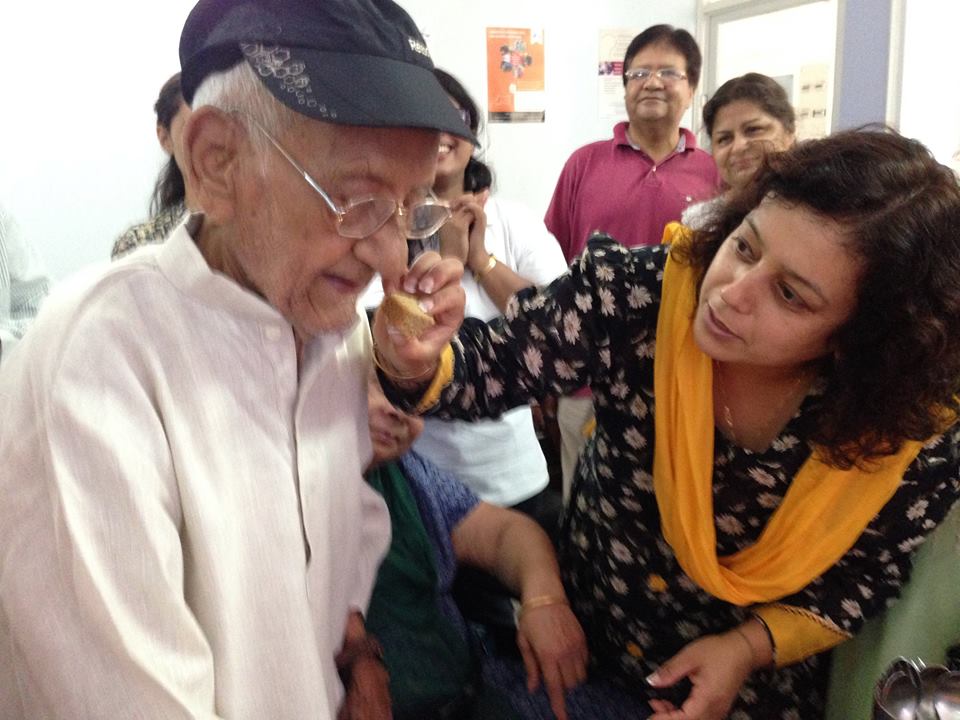 Samvedna Care has been conducting dementia support group meetings for families regularly for the past 5 years. As a part of our interactions we have come across many caregivers and heard their experience in handling their loved ones. Caring for an individual with dementia can be challenging and at times it can also be overwhelming. Frustration and stress is a normal and valid emotional response to many of the difficulties faced by a caregiver. While some irritation may be a part of everyday life as a caregiver, feeling extreme frustration can have serious consequences for the caregiver or the person they care for. It negatively impacts the caregiver's physical health and may lead to some serious consequences.
In discussion with various caregivers the following came up as being critical to how they handled the stress factors:
Acceptance vs. Denial: The changing behavior of the person and transformation into a different personality is most painful. The fact that each day maybe different for a person with dementia is painful. If you are hoping that your loved one is not ill, or expecting to get better or convincing yourself that he/she will get better then you are most likely refusing to accept the diagnosis of dementia. As hard as it maybe it is important to recognize and acknowledge your loved one's condition. It is important for us to understand that nothing is in our control and the only way we can succeed is to accept the situation. The dementia world is a gentle, loving and caring place. If we could experience their world then we would realize that all their behaviors that are stressing us are normal for them.
"I accepted my mother and accepted how she will react and say. As a result of acceptance I actually ended up being happy myself. The day I learned to embrace my mother's health condition was the happiest days of my life". – Col Yadav, caregiver to his 90 year old mother.
A sense of purpose after giving up a career: Caregiving responsibilities can interrupt work on a daily basis. This causes lost hours / days on the job and in some cases lost promotions and wages. In some cases caregivers have no choice but to leave their job in order to take care of their loved ones.
"I had a decent job and I was satisfied with it. Seeing my father's heath condition I had no other option but to leave my job. Till a point I regretted but seeing my father happy and caring for him in his need makes me feel good and satisfied. It depend how you see your work". – A daughter
Caring for yourself along with the emotional toll: The journey of the family is inevitably filled with stress and mixed emotions. It is important to do what is necessary for your health in order to take care of your loved one. Dementia, especially Alzheimer's disease, causes a long, slow deterioration of mental and physical capacity. Watching this is painful and takes an enormous toll on caregivers who must try to remain positive and upbeat.
Family Dynamics:  Mostly women feel more responsible in their caregiving duties than men, and try to balance multiple tasks like raising children, caring for elderly parents and managing a job. Many times people admit to us that it is easy to care for one's own parents than for the in-laws as the bonds are much deeper. Often past relationships with the person with dementia causes caregiver stress, negligence and avoidance. What is interesting is that many women caregivers complain that their mothers-in-law affected by Dementia are still demanding of them while being nicer to the sons!
Guilt: Caregivers feel guilt over feelings that they want it all to end, or being impatient with the care receiver too much. Some children feel that they are not doing enough for the mother/father and blame themselves for their condition. Some caregivers feel guilty about thinking of their own needs and see themselves as being selfish if they take time out for their own socialization needs.
These stress factors in turn lead to negativity and other changes in the personality of the caregiver:
Anger is a normal part of being around someone who needs help on an ongoing basis and who might not be accepting of help. Caring for someone with dementia in particular can be even harder, as the care receiver can be irrational and aggressive. It is not always possible to be in perfect control of your emotions. Anger "just comes out" sometimes.
"She knows how to do that work, she cannot do it now". 
Social withdrawal from friends and activities that used to make you feel good. As a caregiver shared

 

"There was a time when I use to involve myself, now I don't feel like going out and meeting people."
Anxiety about the future and facing another day. No two days are the same for a person with dementia and caregivers can get anxious about coping with the sudden change in behavior.
"What happens when they need more care then what will I do?"
Depression – feeling hopeless or helpless, the inability to sleep, or trouble getting up and facing the day for prolonged periods of time without any respite can be extremely detrimental to your mental health.
Exhaustion – sometimes as a caregiver, you feel that you can't do anything right or that things just don't go as planned no matter what you do or how hard you try. And if you are physically and emotionally tired, you are more likely to get frustrated with your loved one. "He doesn't wear his diapers, earlier he used to do all his work by his own."
Caregiving can take you to a different chapter in life, and there must be a time when you feel guilty of "not doing enough", you ask "why my parent". There are some occasions where you overlook your work, inappropriate behavior causes you social embarrassment, you miss the person who is no longer there for you.  When you are unsatisfied, it is important to differentiate between what is and what is not within your power to change. Frustration often arises out of trying to change an uncontrollable circumstance. As a caregiver for a person with dementia, you face many situations in normal daily living activities. Unfortunately, we cannot simply change the behavior of a person with dementia so we have to cope according to their needs. Stress among caregivers ultimately affects quality of care that is being provided to the patient.
We often see that caregivers are unprepared to provide care due to inadequate knowledge about care giving along with financial burden and physical and emotional stress. It is important for the caregivers to seek professional help through support group meetings, forums and interacting with counsellors to cope with their stress levels.
Remember the Dementia patient is not giving you a hard time, the dementia patient is having a hard time. – Anonymous
---
We at Samvedna Care aim to help seniors live happy, active and independent lives, in the comfort of their home and community through interactive caregiving.
Samvedna Care was established in October 2013 with two complementary goals – firstly to provide quality home care services to seniors with limited mobility or dementia and hence social interaction, and secondly to facilitate stimulating community interaction and participation. Please call us for more info – Delhi NCR – 98184 21446, 124 4229659 or write to us on [email protected]
Our Dementia Care services are –
At-home services –
Dementia intervention activities by trained Care Specialists (already mentioned above). These services are available in Delhi NCR. More – Dementia Care
In-Home Trained Attendant Service –
Samvedna Care's trained in-home attendant service brings to you verified attendants and nurses, specially trained by specialists in elder care and dementia. Our staff is trained to not only take care of your elderly loved one's physical wellbeing through top class personal care and nursing, but also their emotional wellbeing.  The attendants are monitored by our Senior Care Specialists (psychologists and MSWs)
Our service is available across Delhi, Gurgaon and Noida. We offer both male and female attendants as per request, for 12 and 24 hour shifts. Know more about our Trained Attendant Services
here-Caregiver Services
Counselling for Ageing Related Disorders in Anand Niketan, New Delhi –
Studies show that elderly may be more prone to depression and loneliness, which can lead to higher rates of unhappiness. To address this issue, we have designed counselling and therapies for seniors with anxiety, low mood or depression, mild cognitive impairment/ memory difficulties, or dementia.
More –Counselling
Dementia Cafe, Sector 57 Gurgaon –
From initial stage to advanced stage, all individuals with dementia feel the need for social interaction at times. Our Dementia Cafe is a safe and friendly place for your loved one with dementia to chill and socialize. The cafe is aplace where they will find a fun activity, a warm chair and companionship. Every Tuesday and Thursday, 11-1PM. More – https://www.samvednacare.com/dementia-cafe
Cognitive Wellness Programme, Sector 57  Gurgaon  –
Samvedna's Cognitive Wellness Programme is designed for seniors with mild cognitive impairment, early dementia or Parkinson's,and elderly lacking in enthusiasm and motivation. The aim is to stimulate the mind of the elderly to slow the progression of the disease or impairment. The sessions are 3 days a week – Monday, Wednesday and Friday, 11AM-1PM. More – Enterprise Wellness Plan
Dementia Support Group –
Our Dementia Support group in Delhi NCR is a platform for caregivers to share feelings and support each other. More –Join a Support Group