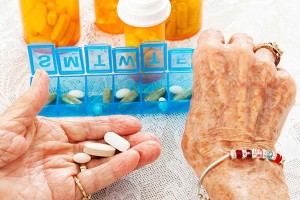 Mr. Malhotra (name changed), a retired IAF officer, lives with his wife (55), who was diagnosed with Alzheimer's at the age of 53. Mrs. Malhotra has always been an active and independent woman. She is a highly educated woman and was working as a scientist till a few years back.  She was diagnosed with Alzheimer's and since then her disease has been progressing rapidly. Mr. Malhotra has been her primary caregiver. Mrs. Malhotra is suffering from some other ailments as well and requires monthly visits to the doctor for review. She is unable to manage her own medicines and gets really hassled every time she goes for a doctor's review.
When your spouse is diagnosed with Alzheimer's or any other type of dementia, roles begin to change. Quite often the caregiver spouse becomes responsible for all aspects of care and it gets exhausting and one experiences a range of emotions like frustration, grief, anger, sadness and guilt.
In the early stage, your loved one should be involved in their medical care. In the later stage, it will be difficult for your spouse living with dementia to understand medication management and purpose of hospital visits. Many dementia patients are also prescribed medicines for other health problems. When so many medicines are prescribed the spouse should have proper knowledge about the purpose and benefits of the medicines and their side effects.
Here are some tips for effective medication management:
Develop a routine for giving the medication: Ask the doctor, if the medications should be given at a fixed time of the day, with or without food.
Use a Pill Box Organizer: Using a pill box is an easy way to keep the medications organized, and help avoid missing any dose.
Create a medication log: Create a list which includes the name, purpose, dosage of the medication.
Learn about the side effects of the medications.
Expired and discontinued medicines should be discarded
As the disease progresses, it becomes a little more challenging for the spouse to convince their loved one with dementia to take the medications. Sometimes the dementia patient refuses to take medications. Here are some tips to help in such a situation:
When you are giving medicines to your spouse with dementia, make sure you both are calm and are in a safe environment, with no distractions, like TV or other

 

noise.
Use simple and clear language. Use short and simple instructions, which is easy to understand.
If swallowing big pills is a problem, consider asking the doctor, if the medication is available in other forms. Some medications are available in liquid form as well
Keep in mind that no pill or tablet should be crushed without consulting a physician, as it may become ineffective.
Besides medication management another challenge for the care partner is – managing the doctor/hospital visits. Hospitals can be disorienting and disturbing for someone who has been diagnosed with this disease. Comforting the person living with dementia is important during the visits.
Preparing to take your spouse with dementia to the hospital can make a huge difference in how much stress both you and your spouse will experience. Planning hospital visits can make the whole process easier and comfortable for both of you. The first thing is to give enough time to your spouse to get ready for the visit. Hurrying them up or keep them waiting for too long can be counterproductive as the patient may become agitated. If possible enroll another family member or professional caregiver for the visit. This will ensure that someone is with the patient while you are moving around in the hospital for paperwork etc.
Keep the following ready for the visit:
Arrange transportation in advance
Keep list of all prescriptions and test reports
Pack water and some light snacks
Keep spare toiletries/diapers
In case your spouse has to be admitted for some procedures or requires hospitalization you may have to take some further precautions.
Night stays in the hospitals can be very disorienting for dementia patients. While the dementia patient is admitted in the hospital, you can take few steps to make the visit more comfortable. Some of the common concerns during hospital stays are communication, nutrition and safety.
Being prepared for the planned hospital visits and emergencies can reduce some stress. Comforting your loved one is important, give them something to hold such as a blanket or a book, which is familiar and comforting to them.
Always remember
Create a calm and quiet environment while giving the medicines or taking them for a doctor's visit
Make sure you have all the prescriptions and questions ready for your doctor.
---
We at Samvedna Care aim to help seniors live happy, active and independent lives, in the comfort of their home and community through interactive caregiving.
Samvedna Care was established in October 2013 with two complementary goals – firstly to provide quality home care services to seniors with limited mobility or dementia and hence social interaction, and secondly to facilitate stimulating community interaction and participation.
Our Dementia Care services are –
At-home services –
Dementia intervention activities by trained Care Specialists (already mentioned above). These services are available in Delhi NCR
More – Dementia Care
Please call us for more info – Delhi NCR – 98184 21446, 124 4229659
In-Home Trained Attendant Service
Samvedna Care's trained in-home attendant service brings to you verified attendants and nurses, specially trained by specialists in elder care and dementia. Our staff is trained to not only take care of your elderly loved one's physical wellbeing through top class personal care and nursing, but also their emotional wellbeing.  The attendants are monitored by our Senior Care Specialists (psychologists and MSWs)
Our service is available across Delhi, Gurgaon and Noida. We offer both male and female attendants as per request, for 12 and 24 hour shifts.
Know more about our Trained Attendant Services here- Caregiver Services
. You can also call us on 98184 00561 or write to us on contact@samvednacare.com.
Counselling for Ageing Related Disorders in Anand Niketan, New Delhi –
Studies show that elderly may be more prone to depression and loneliness, which can lead to higher rates of unhappiness. To address this issue, we have designed counselling and therapies for seniors with anxiety, low mood or depression, mild cognitive impairment/ memory difficulties, or dementia.
More –Counselling
Dementia Cafe, Sector 57 Gurgaon –
From initial stage to advanced stage, all individuals with dementia feel the need for social interaction at times. Our Dementia Cafe is a safe and friendly place for your loved one with dementia to chill and socialize. The cafe is aplace where they will find a fun activity, a warm chair and companionship. Every Tuesday and Thursday, 11-1PM.
Cognitive Wellness Programme, Sector 57  Gurgaon  –
Samvedna's Cognitive Wellness Programme is designed for seniors with mild cognitive impairment, early dementia or Parkinson's,and elderly lacking in enthusiasm and motivation. The aim is to stimulate the mind of the elderly to slow the progression of the disease or impairment. The sessions are 3 days a week – Monday, Wednesday and Friday, 11AM-1PM.
Dementia Support Group –
Our Dementia Support group in Delhi NCR and Guwahati is a platform for caregivers to share feelings and support each other.
Please call us for more info – Delhi NCR – 98184 21446, 124 4229659