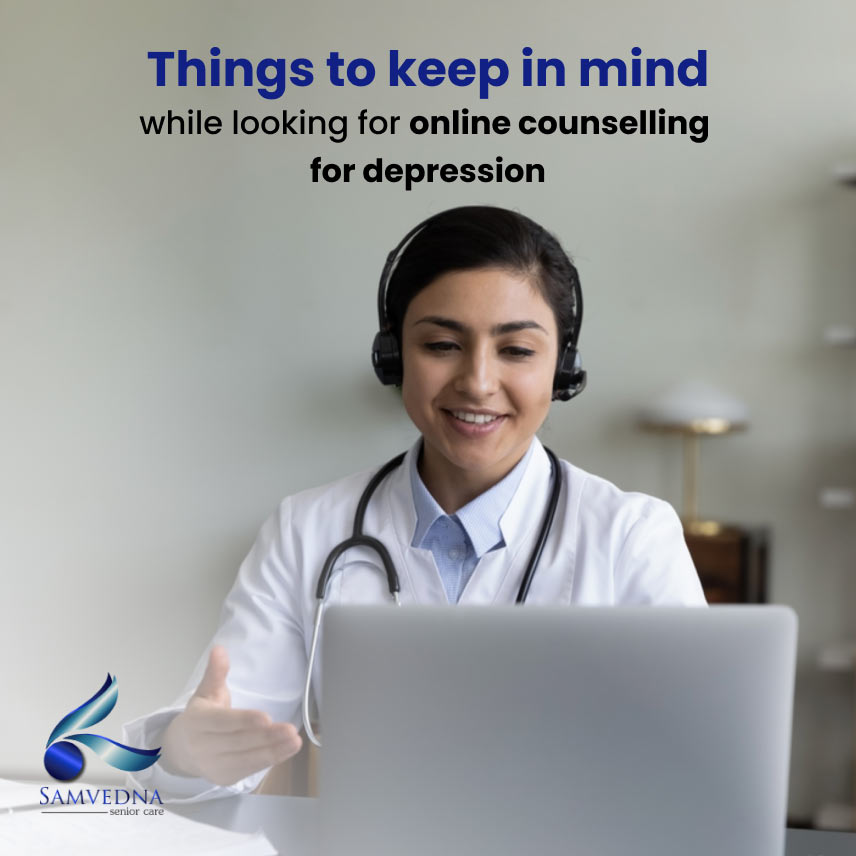 If you're struggling with depression, you're not alone. According to the National Institute of Mental Health, USA, depression is one of the most common mental health disorders in the United States, affecting an estimated 16.1 million adults. In India, more than 14 % of the population suffers from
mental disorders of some kind. More and more people are becoming aware of online counselling services for depression and it is now widely acknowledged as the best medium to seek mental health support. Not only is it easy to access, but it also gives you privacy and confidentiality while seeking help. There are other benefits like cost-effectiveness and time saving for those busy in the hustle and bustle of life.
While looking for counselling sessions for depression always look for the therapist and counsellor profiles to understand their educational background and training. It is also important to evaluate if counsellors are able to deal with multiple types of mental health issues. One should also ensure that your therapist does not change once your counselling services start. Your mental health therapist/clinical psychologist should also provide you with a confidential, non-judgemental environment to seek support.
Online counselling services are pocket friendly and typically the first session is used to understand the individual's pain points and explain how the counselling process works. This also provides an opportunity to familiarize oneself with the counsellor and get a comfortable feeling. It is important to ensure that you are engaging with the right mental health therapist for your needs.
Today mental health counselling is available on the internet and easy to access with a click of a few buttons. As a first-time user, you may have to register on the website and provide a few details about yourself.
Samvedna Care also offers self-assessment tools which you could use to understand your mental health. Once you register you will be able to select the type of counselling services you require, and you can also select package rates. Typically an online counselling plan will offer you 3- 6 sessions, as it takes time
for the counsellor to understand the chief complaints and work with you to develop a therapy plan.
Psychological help online is available through counsellors and psychiatrists. Depending on your initial discussion with the counsellor, they may refer you for a psychiatric consultation if the need is felt. Sometimes a detailed psychological assessment is required to diagnose a mental illness before you
can start with the treatment plan.
During online counselling for depression, the mental health therapist will apply various techniques like Cognitive Behaviour Therapy (CBT), talk therapy, and active listening support to name a few. While there are many websites which offer online counselling services always look for websites which provide easily accessible online counselling services through video, voice and WhatsApp calls. Also, ensure that the counsellors are qualified and experienced in various mental health issues and that they provide good listening to people seeking help.
So go ahead and make the right choice by seeking help through online counselling. Remember to choose your therapist carefully and ensure the organization has credibility. The organization should be able to offer a variety of counselling services. Register through the online website to get started and choose the counselling type and appointment timings.
Samvedna Care is one of the reputed tech-enabled mental health service providers for online counselling. Post the pandemic there has been an increased acceptance of online counselling. During the pandemic, they have serviced hundreds of customers through online counselling across twenty states of India. They specialize in depression counselling for adults going through various challenges in their lives. They provide the best counsellors with years of experience. Samvedna Care has counsellors to help with issues of adults like lifestyle changes, better relationships, counselling for caregivers and family counselling.
So if you are looking for the best online counselling for depression, then Samvedna Care could be the perfect choice for you. Not only do they provide different therapies and counselling options for various age groups, but their team of qualified and experienced therapists are also always ready to help
solve your problems.