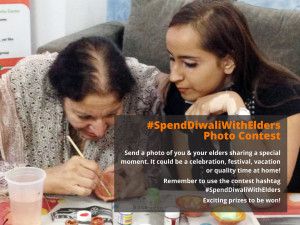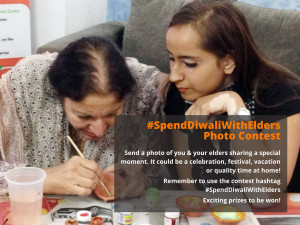 Diwali is round the corner! The festive season is a time to bond and celebrate with those we love, and spread happiness.
We at Samvedna are running a campaign #SpendDiwaliWithElders to start a movement to encourage people to spend this Diwali with their elders, and make that extra effort to make them feel special.
Join us in spreading this message by participating in the #SpendDiwaliWithElders contest.
Here is what you need to do –
Step 1 – Select a photograph where you are sharing a special moment with your elders – it could be a celebration, festival, vacation or quality time at home.
Step 2 – Share it with us
ON Facebook – Upload it to our page facebook.com/samvednacare and use the hashtag #SpendDiwaliWithElders
On Twitter – Tag us @samvednaseniorc and use the hashtag #SpendDiwaliWithElders
3 winners will win a Samvedna Care gift hamper with goodies for their elderly loved one!
Contest closes 11th November 2015.