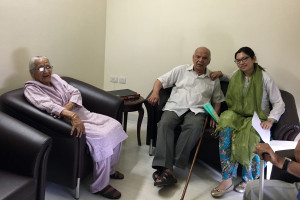 Mrs and Mr Sharma have been living in Delhi for the last 2 years, and their children were settled abroad. Both of them have a history of medical illnesses. They have a house support staff of 2 and also a driver to help with the demands of daily living.
Very recently Mrs Sharma had a fall and needed to be hospitalized. Here is Mr Sharma's account of his experience –
"I have mobility issues and when my wife had a fall, I needed help and support from someone. My son had tied up with a team of emergency respite care services for us. I made a call to them. The emergency team promptly came to our help. They also arranged for an ambulance. A care person accompanied my wife to the hospital, as I couldn't. She made all the arrangements with regards to hospital formalities and finances. Also, I was constantly being reported of my wife's condition. Though I was anxious and worried for my wife, I felt better knowing someone is there with her always. Later, they even came to meet me, to assure that everything has been taken care of and managed. Once my wife was better, they helped get her back home and explained to me about post care about medication. They followed up and came regularly to meet me and my wife, to check on her health. They even helped in taking her to hospital visits for checkups.
I am happy in knowing there is such a team that works for our care and welfare. Tying up with such a service gave me the assurance and confidence that there is someone for us to reach out to and rely on at the time of a crisis."
——
Samvedna Care – Emergency and Respite Care:
Our emergency support service is for times when an elderly needs assistance in a hurry. In case of an emergency like a fall, sudden illness or unplanned travel, we are one phone call away, ready to step into action and deal with things. The services include ambulance assistance, an on-call helpline (8am-8pm), hospitalization support and more.
Respite care services give caregivers an opportunity to leave home for a few hours for errands, appointments or simply to unwind, with the peace of mind that comes with knowing their loved ones are in capable hands.
More –Join a Support Group