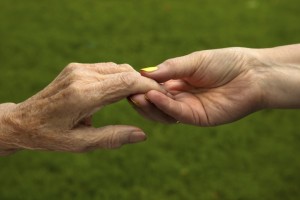 Physical and mental health decline often surprises family members, especially if aging parents seemed fine on the last visit. The key is to be aware of the small signs or problems that something may be wrong, so that your elderly has an inkling of health decline and can properly prepare for the future.
Aging parents and their children are often in denial that there is a problem. It's often hard for parents to admit that they need help, and no one wants to lose their independence.  But daily living tasks sometimes get to be too much as we age, and it's important for family members and loved ones to step up and address the problem when this happens, even if it is painful.
The responsibility often falls on the family to recognize the signs that an aging parent might need help with daily living tasks. This doesn't mean that your loved one has to go to assisted living or a nursing home, but they may need some extra help in their home environment. And if they're not willing to admit it, there are signs that your elderly parent needs help.
Be aware of physical deterioration and mental disintegration. Understanding the needs of your loved one allows you to offer targeted assistance where it is truly needed, thus protecting his or her privacy and reassuring them of their independence. If health or happiness seems to be compromised, it's time to have a conversation and address problems, whether it's finding in-home care, a retirement community or a senior living community. It's important to find the right care options for each unique family situation.