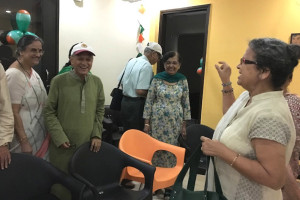 Years back my parents shifted to Mumbai for making a living. Now after working for many years, they decided to come back to their roots and shift their base to Gurgaon, our hometown, where I live at present, with my wife and children. Though it was difficult to move back from a place they made their own, they were looking forward to a new phase of being closer to their children and grandchildren. Even we were looking forward to this, as our children as well would get to see a new side of life.
We decided to live in the same locality but on different floors, as that would give them space while at the same time ensure that they would be connected to us. They had worked hard all their lives for us and now we wanted to make sure they live this phase of their life fully, and for themselves.
After they moved, for the initial few months we were highly engaged with each other and would meet up regularly. The physical presence of elderly around really brought out the essence of family.
But soon the newness fizzled out, and we all got busy with our respective lives. We couldn't meet up as often as we would like to. Children got busy with their studies and friends, while we would find ourselves struggling to manage our professional and personal lives.
It is human tendency to take things for granted. My parent's social life received the strongest blow post their shift. My parents were happy with whatever limited time we could spend with them and content by helping the kids, or even us at times. Though they happily agreed to, I didn't want them to be confined to us. They have always been independent and lived life to the fullest. Restricting their lives to us was the last thing we wanted.
We all have social lives and know how important they are for an enjoyable life. I wished that somehow my parents could rebuild their social life in Gurgaon, like the one they had left behind in Mumbai. I was looking at how they could find an avenue where they could mingle with same aged peers and enjoy themselves.
My search finally ended when I came across a club for senior citizens close to our home. I went there with my parents, and they decided to get enrolled. Initially they were hesitant about the idea, but started going to give it a shot.
This was 4 months back. I have seen a lot of positive changes in their life since then. Every time I meet or call them up, they share stories of the club like the workshops they attended and the new things they learnt. Going to the club, meeting their new friends and doing something fun together has now become a part of their life. They have not only got a new social circle, but have also got smiles and laughter back in their lives. There is definitely a different kind of enjoyment in socializing and being friends with people in a similar life stage.
They not only learn, they also offer to teach others from the expertise they have gained over years. I can see in them a new sense of purpose, and more importantly they are motivated and look forward to each day. I feel a good decision was made, for life for them has taken a beautiful turn. I can only say…don't be afraid of change, because it is leading you to a new beginning!
---
Great Times by Samvedna is our social and recreational club in Sector 43, Gurgaon, for members 55 years and above. Its a place where members come to get fit, meet like minded people and share their life experiences and give back to the community.
Activities at the club include fitness exercises, group meditation, mind stimulation, tambola, dancing, book reviews, movies, community outreach, and talks on health management. The club has a library, computer room, visits by physiotherapists and doctors, access to board games and cards, a fully functional pantry with healthy and affordable snacks and tea and coffee on the house.
Transportation is available on select routes. There are special discounts for group memberships. The club is open Monday-Friday, 11am to 5pm. There are special classes for yoga, computers, spoken english, dance, music and painting. We also have Bridge mornings every Tuesday and Thursday.