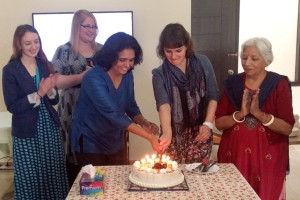 Samvedna Care turned 3 on 6th November! To celebrate this joyous day we had a get together at our senior club – Great Times by Samvedna. Our guests, apart from our valued members, included a team from the Cherie Blair Foundation. Our founder Archana, who was earlier associated with their women entrepreneurs programme, invited them to the club so they could learn more about our work and also get a chance to meet our members.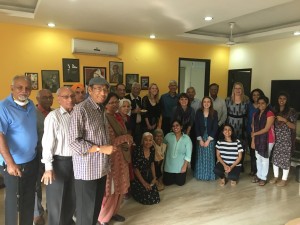 It was an interesting afternoon. Our members shared their thoughts on ageing, and on their experience at Great Times Club. We'd like to share some of what they said here. Mr Bhupender Singh Phool said, "I used to work with Air India and have lived in many countries before finally moving back post retirement. Suddenly I found that after retiring I couldn't pass my time. So my son, who lives in America, came and contacted Samvedna and got me to join Great Times Club. I am really enjoying it here, people are nice and they look after you very well." Mr Deepak Basu, another senior at the club, said, "I am from the corporate world, and am now retired. I came here to this club to overcome my loneliness."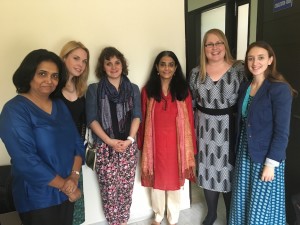 Another member, Ms Nandita Ahluwalia, who recently moved to Gurgaon and is now our member, said,"I worked as a special educator in Chennai and have now moved here…My husband and I thought we must learn how to use a smartphone or we will be outdated and cut off from the world! We now hope to have a good time with the club!" Mr Basu, our oldest member (in terms of membership time and not age) said, "When I heard about Great Times Club from Archana, I thought I didn't need any retirement help as I was pretty active. But once I came here, I saw things happening here that were attractive to me. At Great Times they don't treat you like a "senior citizen" per se. You don't sit around and look at each other. There is always some activity or the other happening at the club, like a debate or quiz or a musical programme or spanish classes. So its exciting for me!"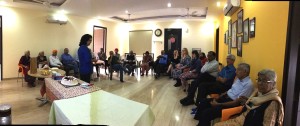 It was heartening and encouraging to hear that we are being able to make a difference to the quality of life of seniors, which is our aim and mission!
---
Great Times by Samvedna is our social and recreational club in Sector 43, Gurgaon, for members 55 years and above. Its a place where members come to get fit, meet like minded people and share their life experiences and give back to the community.
Activities at the club include fitness exercises, group meditation, mind stimulation, tambola, dancing, book reviews, movies, community outreach, and talks on health management. The club has a library, computer room, visits by physiotherapists and doctors, access to board games and cards, a fully functional pantry with healthy and affordable snacks and tea and coffee on the house.
There are special discounts for group memberships. The club is open Monday-Friday, 11am to 5pm. There are special classes for yoga, computers, spoken english, dance, music and painting. We also have Bridge mornings every Tuesday and Thursday.