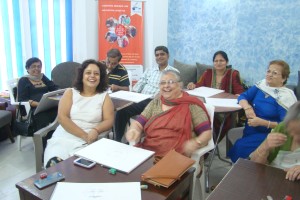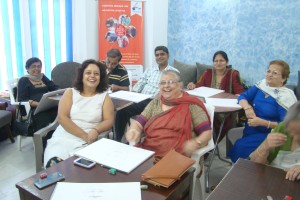 October 1st is celebrated as World Elder's Day and Samvedna celebrated the occasion with its members with lots of fun filled activities. We also commemorated Mahatma Gandhi's birth anniversary as the following day was Gandhi Jayanti.
A painting competition was organized for our members in which they had to make a sketch of Gandhi Ji. The competitive spirit of our members was evident by the fine sketches each one of them made. In the background we played melodious songs of Geeta Dutt and it was a visual treat to see everyone humming to the songs and drawing their sketches in a very relaxed atmosphere.
Very often we miss to express our gratitude and love for our parents in words and gestures and take it as something given. We facilitated the children of our members to come forward and express their feelings and gratitude for their parents on this special day. They all shared their most memorable memories and events via special video messages and pictures sent to us.
Children from our NGO partner Pure Hearts also stopped by and wished our members and sought their blessings.
We also had an interesting discussion on the significance of Gandhi Ji's values in today's context. The session ended with everyone joining in to sing Gandhi Ji's favourite bhajan "Raghupati Raghav…"
Everyone felt happy participating in creative activities and sharing their opinions on Gandhi Ji's values. It was a great day celebrating two major occasions and bringing everyone together.