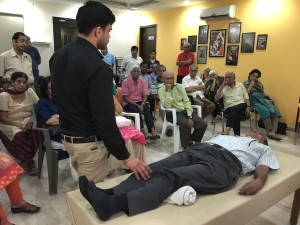 A physiotherapy workshop was organized at our Great Times Club for seniors last week.  The workshop started with demonstration of  chair exercises which can be easily done by seniors sitting on a chair. Our physiotherapy team of Dr. Lamba and Dr. Vivek talked about the importance of walking, swimming and exercises to stay fit and lead a healthy life.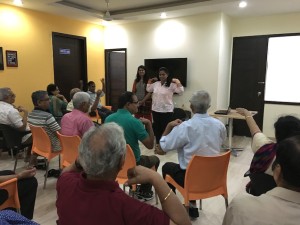 This was followed by demonstration of resistance exercises using a stretch band to improve muscle strength. Exercises for arthritis were also demonstrated with volunteers from the audience. The doctors then answered specific queries and demonstrated exercised related to back, shoulder and cervical spondylitis issues. The doctors also took  one-on-one consultation, and guided seniors on their specific ailments and case histories. Overall the session was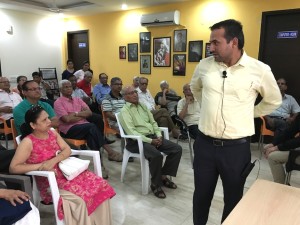 highly interactive and lots of queries from the audience were answered for the benefit of everyone.
Seniors can consult our in-house physiotherapist Dr Vikas Lamba (at a subsidized cost) by appointment, at Great Times Club. Please call 9818421446, 0124-4229659.
——-
Great Times by Samvedna is our new social and recreational club in Sector 43, Gurgaon, for members 55 years and above. Its a place where members come to get fit, meet like minded people and share their life experiences and give back to the community.
Activities at the club include fitness exercises, mind stimulation, tambola, dancing, book reviews, movies, community outreach, and talks on health management. The club has a library, computer room, visits by physiotherapists and doctors, access to board games and cards, a fully functional pantry with healthy and affordable snacks and tea and coffee on the house.
Transportation is available on select routes. There are special discounts for group memberships. The club is open Monday-Friday, 11am to 4pm. There are special classes for yoga, computers, spoken english, music and painting. We also have Bridge mornings every Tuesday and Thursday.