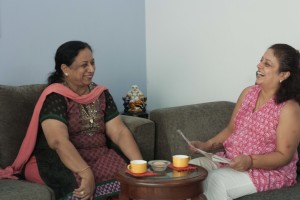 "My mother in law and I experience a lot of conflict when comes to raising my teenage daughter. Both of us have different approaches and sometimes it gets very difficult to get a common ground, ensuing daily drama in the house…"
"My son has an erratic work schedule. His lifestyle and habits have been at the receiving end since then. I at times tell him to monitor it, but he either gets irritated or angry. I really don't know how to make sure the message reaches him…"
It's common to encounter such issues and conflicts in almost every household, be it the traditional joint Indian family, or nuclear families that make annual visits to their grandparents or distant senior relatives. What's more interesting is that whenever such a situation arises, especially between two individuals who are set apart by years of experience and understanding, we usually attribute it to the very evident 'generation gap'. But, what is the generation gap all about?
Technically it refers to the years separating one generation from the generation that precedes of follows it, especially when regarded as representing the difference in outlook and the lack of understanding between them. However, today many attribute it as the single and top most factor for lack of or difficulties in communication between the youth and the seniors of the households, making the relationship between them far more distant. It leaves an awkward void, possibly making the things difficult in the future as well.
India has always been a collectivist society, with family members having a close knit bond. However, changing economic scenarios have led to a dramatic shift in family dynamics. Work life is more hectic and demanding. Women have also started supporting the family financially. In the quest to make the ends meet and lead a good life, we lose out on something that is so dear to us: to be able to talk, share and express to our loved ones.
It is one big roadblock that often leads to a lot of problems, affecting many areas of ones living. Constant nagging can disturb the family environment. It not only disrupts inner peace, it is also known to create a 'ripple like effect' on other family relationships as well.
One of the most effective solution to all the chaos that unfolds is to communicate. Proper communication is what helps in ironing out the creases formed in the relationship. We are all very well aware of the basic communication tips, but how far are we able to implement it. The real challenge is to understand the basic nuances and barriers that stop the real message from being communicated. It will be difficult to start off, but understanding and appreciating the differences amongst us is what will be the first step to bridge the gap.
This hurdle in 'putting across the message' is something that can happen to anyone but it is important to understand that communication is a two way street which requires steps to be taken by both the parties. Only if one consciously takes steps and make minute adjustments can we make way for healthy relations.
A generation gap is actually an understanding gap.
We would like to invite you (seniors and offsprings) to an INTERGENERATION WORKSHOP at Great Times Club, which will discuss intergenerational relationships in the present scenario, causes of communication problems and strategies to bridge barriers.
Date and timings – 19th August, 11AM to 1PM
Fee: Rs 300 (Free for Great Times Club members)
Venue: Great Times Club, 1304 St Thomas Marg, Sector 43, Gurgaon (Opp Shalom Hills School)
Call to know more/ register, limited seats – 9818421446, 0124-4229659
Great Times by Samvedna is our new social and recreational club in Sector 43, Gurgaon, for members 55 years and above. Its a place where members come to get fit, meet like minded people and share their life experiences and give back to the community.
Activities at the club include fitness exercises, mind stimulation, tambola, dancing, book reviews, movies, community outreach, and talks on health management. The club has a library, computer room, visits by physiotherapists and doctors, access to board games and cards, a fully functional pantry with healthy and affordable snacks and tea and coffee on the house.
Transportation is available on select routes. There are special discounts for group memberships. The club is open Monday-Friday, 11am to 4pm. There are special classes for yoga, computers, spoken english, dance, music and painting. We also have Bridge mornings every Tuesday and Thursday.