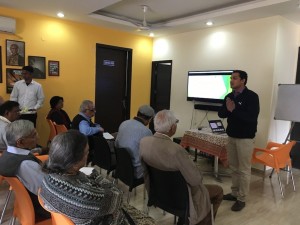 "It is health that is real wealth, not the pieces of silver and gold" — Mahatma Gandhi
When we were young, we never believed in such sayings by our elders. In that phase of our life, we were busy working hard, doing well in studies and then getting a job, buying a house, car etc. We usually do not feel the need to do anything about health till we become sick.
I too spent 17 years in the corporate world focussing on my career, taking the body that enabled me to do so for granted. I had struggles with Sinusitis for over 15 years and tried all kinds of medication without any long term success. Finally when I tried naturopathy I experienced the magic of nature cure. I then treated my family through naturopathy and we have all been living without any medication for the last 4 years. That is how I started my venture – with the mission to make more and more people benefit from naturopathy.
What is Naturopathy (Nature Cure)?
Naturopathy is a certified stream of treatment like Homoeopathy, Ayurveda, Unani. It is a holistic, drugless system of healing which works on the belief that our body has the power to heal itself using the healing powers of nature. It believes our body is made up of 5 great elements (water, air, earth, fire, space) and any imbalance in these 5 elements causes disease in our body. Restoring the balance will restore our health. It also believes that accumulation of toxins is the root cause of all diseases and we can stay healthy by preventing toxic accumulation in our body and removing it on regular basis.
Most of the illnesses (obesity, diabetes,hypertension, heart problems etc.) are result of incorrect lifestyle. In today's world when air is polluted, water is not pure, food has pesticides, the only solution to good health is to build your body's own immunity by eating right and detoxifying our body on regular basis. Yes, it is possible to treat 80-85% of our health issues without any medication through naturopathy.
Naturopathy treatment consists of 3 elements:
1. Therapeutic Diet
2. Yoga
3. Therapies (done with mud, water, heat, therapeutic massages, acupressure, acupuncture etc.)
With ageing, since our body is changing, it is very important that we also make changes to our lifestyle accordingly. Ageing brings changes like decline in immunity system, changes in GIT, emotional changes etc. It is possible to enjoy the ageing process while following naturopathy guidelines.
The common mistake which we make, is to copy someone else's diet and regime for good health. We must understand that our body is unique and It is advisable to consult a qualified naturopathy doctor to discuss individual heath conditions so that they can provide diet, yoga and therapies plan according to individual's health conditions.
We wish that more and more people realise the healing power of body and adopt Naturopathy as a first option for staying healthy. Stay Healthy Naturally!
Written by Vinod Kumari, chief patron of EcoLive, a Naturopathy Wellness Center in Gurgaon that promotes holistic health and well-being of individuals through right lifestyle management involving therapeutic food, yoga and natural therapies.
---
Samvedna Care –
We at Samvedna Care aim to help seniors live happy, active and independent lives, in the comfort of their home and community through interactive caregiving.
Samvedna was established in October 2013 with two complementary goals – firstly to provide quality at-home care services to seniors with limited mobility and social interaction, and secondly to facilitate stimulating community interaction and participation.
Our At-Home Care Services for General Wellbeing aim to raise the quality of life of seniors through a monthly interactive programme in the comfort of their home. Our senior care specialists, who are trained psychologists and gerontologists, keep them active and engaged through physical, mental and social activities. The activities include intellectual companionship, mind stimulation activities like puzzles and crosswords, playing games, dancing and singing, social outings for coffee or mall and more.
More – https://www.samvednacare.com/home-care-services/home-care-package/elder-care
Please call us for more info – 98184 21446, 124 4229659