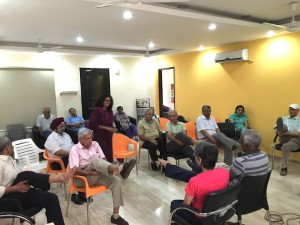 Ageing is not necessarily about slowly growing old and frail. It need not decrease a person's ability to contribute to the society. Older people can contribute a lot more towards the society considering the experiences and learnings they have had. But this can only be possible only when they are active and healthy. Active ageing is about optimizing opportunities to enhance the quality of life as people grow old.
Obesity is one of the most common problems that disrupt healthy ageing. It is a condition caused by the accumulation of excessive levels of body fat which has a negative impact on the overall health of an individual. If a person's body weight is even 20% higher than it should be then the person is considered obese. Overweight and obesity are the fifth leading risk factor for global deaths. Once considered a problem of developed countries, it is on the rise even in developing countries like India, particularly in the urban areas. Sedentary lifestyles and poor diet are the main causes of obesity. Obesity in the elderly can lead to early onset of chronic morbidity and increased mortality. Diabetes and heart disease are the most common problems aggravated due to obesity.
Yoga is an effective way to keep obesity at bay. It can be practiced by people of every age and fitness levels. Yoga promotes relaxation, lowering levels of cortisol, and so diminishes the desire to eat and the body's instinct to store fat. Another benefit of regular yoga practice is that it encourages you to be more in tune with your body — more aware of its requirements and of physical and mental changes. Many yoga practices burn fewer calories than traditional exercise like jogging, brisk walking. However, yoga can increase one's mindfulness and the way one relates to their body. So, individuals will become more aware of what they are eating and make better food choices.
Other Benefits of Yoga
Strengthens bones
Minimizes hypertension
Reduces anxiety
Protect the joints
Builds strength and balance
Sharpens  mind
Boosts mood
Yoga does not offer immediate results. But the long lasting results can be really satisfying. Initially there might be a feeling that it isn't helping in any way. But eventually the body will start responding and it will come back to shape. One must also remember that great things come out of patience. A healthy body is a home to a healthy mind. Yoga helps not only to look good but also adds to a person's confidence. It is a perfect win-win situation where a person gets back into shape and also has a control over the body. So, roll out your yoga mats today and fight obesity in an absolutely natural way!
Great Times by Samvedna is our new social and recreational club in Sector 43, Gurgaon, for members 55 years and above. Its a place where members come to get fit, meet like minded people and share their life experiences and give back to the community.
Activities at the club include fitness exercises, mind stimulation, tambola, dancing, book reviews, movies, community outreach, and talks on health management. The club has a library, computer room, visits by physiotherapists and doctors, access to board games and cards, a fully functional pantry with healthy and affordable snacks and tea and coffee on the house.
Transportation is available on select routes. There are special discounts for group memberships. The club is open Monday-Friday, 11am to 4pm. There are special classes for yoga, computers, spoken english, dance, music and painting. We also have Bridge mornings every Tuesday and Thursday.