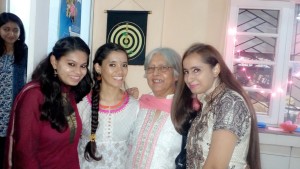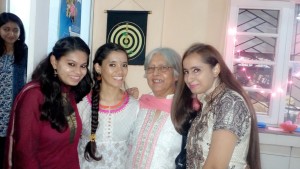 The two major festivals of North India are Holi and Diwali. My favorite was of course holi because of the fun with colors and the freedom to play with elders without restriction. Diwali was the next favorite. It was most for all for the great sweets made by my mother (quite an occasion).
Amongst most commonly accepted folk lore of Diwali, the festival is celebrated as commemorating Ram and Sita coming back from exile. The anticipation of good food, gifts and crackers, new clothes was greatest happiness because Diwali itself got over in a few hours but the planning and shopping started weeks before. The childhood memory of the impatience for the puja to get over is still fresh in my mind. The longest wait and test for patience as the kids were allowed to see the gifts and eat the sweets only after the Puja.
Every Diwali was very special but the first after marriage was the most memorable one for me. The reasons for the same are:
I led the Puja as being the newest family member. I still remember how nervous I was and I only hoped that I don't forget the prayer and luckily I didn't.
The card playing session, my first opportunity to play gamble. As people called it beginner's luck I happened to win most of the money. The memory of that indescribable joy of being the winner among all the seasoned players still brings a smile on my face.
Today when I see my grandchildren excited and jumping all over, all the memories of my own childhood Diwali days comes rushing back to me. I thank my God for all the joy he has bestowed on me.
Diwali wishes to all the generations out there. May this Diwali bring lot of joy and prosperity into your lives.
Achala Sethi