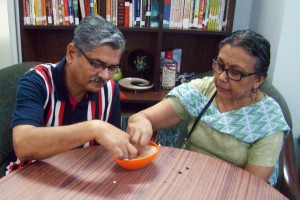 My wife Mrs. Suchismita Roy, M.Sc. (Physiology), B.Ed suffers from Alzheimer's disease for the last 8 years.  She was a brilliant student and a rank holder in Kolkata University B.Sc. & M.Sc. exams. Later on as an educationist she was the Principal of DAV Public School, Ashok Nagar, Ranchi and DAV Kapil Dev Public School, Ranchi and was considered as one of the best principals in the DAV schools in eastern India.
Unfortunately family situation put a stop to her illustrious career and she quit her job to take care of my ailing critically ill parents. Also my parents were not very supportive of her career. After my parents death she wanted to resume her career, but we had moved to a different city and it was difficult for her to explain her gap years. One thing led to another, our kids got married and moved out to pursue their careers. Suddenly she was left alone at home with no meaningful purpose and engagement. As a result she went into depression in 2006. Her treatment of depression gradually pushed her into Dementia, because of over medication, sleeping pills etc.
All through this I tried to keep my professional life intact, but soon I realized medicines alone would not help. I decided to take retirement to spend my time with her and we came back to Gurgaon. I continued to work part time for some more time but finally I called it quits.
Since 2007, I have shown her to the best doctors in NCR and have now finally settled for Dr. Manjari Tripathi, Neurologist, AIIMS. She has also gone through PET scans and Brain Imaging at NBRC, Manesar.  She has also gone through a cognitive rehabilitation program.
Because of constant guidance from experts, medication monitoring and personal attention from me, by God's grace my wife is still in the early Alzheimer's stage even after 8 years. She has only problem of current day to day memory loss. Her long term memory, mathematical & calculating ability, singing & creative work, cooking habits etc. are all intact. Although there is a cook for our home for the last 6 years, Mrs. Roy cooks much better than the cook on days she decides to cook herself.
With my experience to take care of an Alzheimer's patient, I can only advice the following:
1)      Do not delay the treatment. As soon as the first symptom of memory loss, mood swing, depression etc. are seen consult a good Neurologist.
2)      Have a 24 x 7 supervision and care taking. This is very important. Dr. Manjari Tripathi told me that in this disease, medicine helps 50% and the other 50% comes from good care taking. Even with the best of medicines, patient's condition deteriorates very fast if the care taking is not good.
3) Focus on their nutrition and food intake, set a routine and as much as possible adhere to the routine. Fruits & vegetables and fish (especially fish with high Omega 3) are good. I also continued to give her extra virgin coconut oil 15 ml with breakfast and 15 ml before going to bed in the night. Brahmi and turmeric are also very good.
4) Involve the patient in a variety of activities of his/her interest like music, dance, painting, socializing. If there are senior centers nearby enroll them to remain socially active. Physical exercise is very important for the loved one, take them for walks and outings. Take care that the patient gets enough sleep.
5) Be very careful so that the patient does not get lost. This very often happens with such patients. Mrs. Roy got lost twice and now I have got a stainless steel bangle on which the mobile numbers of four of family members are engraved. She wears it all the time. Keep a card with your address & phone numbers in the patient's handbag.
6) Keep a large electronic clock in front of the patient where date, month & time are displayed.
7) Keep a large whiteboard with marker where the patient can write down anything for remembering.
8) Train the patient to keep wallet, keys, specs at the same place each day.
9) Modify environment keeping it bright during day and quiet and dim in the evening. For severely affected patients, put display signs to assist access & orientation to key areas like bedroom & toilet.
10) Most importantly take care of yourself, today although I am a 24×7 care giver I also take care of my emotional well-being. I volunteer with young kids from slum areas and teach them English and Mathematics.
---
We at Samvedna Care aim to help seniors live happy, active and independent lives, in the comfort of their home and community through interactive caregiving.
Samvedna Care was established in October 2013 with two complementary goals – firstly to provide quality home care services to seniors with limited mobility and social interaction due to various constraints, and secondly to facilitate stimulating community interaction and participation.
Our Dementia Care services are –
At-home services – 
Dementia intervention activities by trained Care Specialists (already mentioned above)
Day Wellness Centre, Sector 57 Gurgaon  – 
A place which provides your loved one with social activities and therapies to enhance quality of life, relief for caregivers, and also an alternative to institutionalized care.
Dementia Support Group – 
Our Dementia Support group in Delhi NCR is a platform for caregivers to share feelings and support each other. We meet once a month at the Samvedna Senior Centre in Gurgaon.
Please call us for more info – 98184 21446, 124 4229659