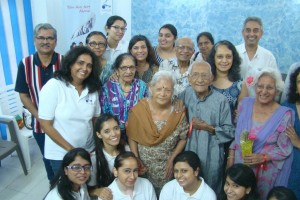 Our Senior Care Specialist Shezmin shares her experience of working with the elderly.
My experience as a Senior Care Specialist has been full of new experiences and challenges.  Since I come from a Clinical Psychology background, I had multiple options to start my career with, but I chose to work with the elderly. I am close to my grandparents and try to understand them and their needs, which in turn has helped me understand my clients better.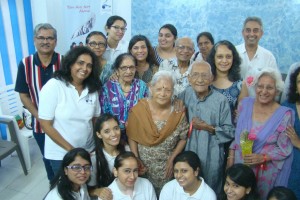 In my interaction with the elderly, I've observed that they are keen and have a lot to share, as their lives have been full of experiences.  They want someone who can listen to them patiently. In today's world all of us are leading busy lives and that leaves us with little quality time for our elderly at home, which somewhere makes them lonely.  Most of them just want a little time from their children and grand children to be happy.
One of the elderly I visit asks me to call her 'Nani', as it makes her feel good.
She always calls me before my visit to confirm if I am coming.
She gets ready and waits for me way before our scheduled time. The moment I meet her she welcomes me with a beautiful smile on her face. Her vision is weak and so she isn't able to read. I read to her the daily news and we have interactive discussions. Since she is fond of Bollywood I regularly update her with the latest gossip! She shares anecdotes from her life before marriage and blushes like a new bride while talking about her husband even now.
This is the lighter side of the sessions. We now share a bond of trust and she shares her happiness as well as sorrows with me. She lives alone in her house and her children visit her regularly. She often speaks about her daughter whom she lost some years ago and cries. I calm her down and try to make her feel comfortable. She has sporadic anxiety episodes as well, and I do relaxation techniques with her to help her deal with them. She once told me that she wishes that her grandchildren would visit her  more frequently since they live close by. This is where Care Specialists like me step in, and help the elderly to fill in the void with a personal touch. A little bit of patience and tenderness, and a listening ear of someone they can trust can do a lot for an elderly's quality of life and mental health. She looks forward to my sessions and says that I am like her granddaughter. The love and affection in her eyes encourages me to continue working in this field.