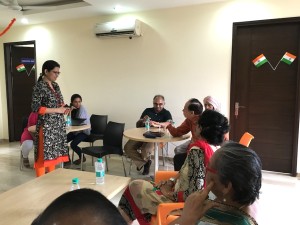 Every individual right from birth to death is experiences different environments. External factors like time, culture, society and economic status play a significant role in shaping one's personality, beliefs and values. Difference in experiences is one of the defining reasons for an individual's outlook in life. Despite the differences people for a quality life it is important to work towards living in harmony. This is possible only when the difference of opinion is accepted, respected and understood.
Last week we conducted a workshop on Intergeneration Bonding between adult and their parents at Great Times Club. The objective of the workshop was to help understand the dynamics of relationships between adults and elderly parents. The key areas of the workshop were: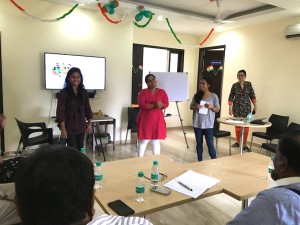 Concept of a traditional joint family
Understanding the intergenerational conflicts
Changing social-family dynamics
Causes of conflicts
Bridging the barriers
The session started off with discussing the pros and cons of a joint vs nuclear family. The participants came up with interesting insights on the kind of a family set up they prefer and how even the definition of a joint family has changed with time. Most of them expressed that living with children was nice but one must give enough space and respect to make the living relationship successful. One senior participant shared how he has broken a stereotype by taking on the responsibility of making morning tea for everyone at home, including for his daughter-in-law and son as everyone likes to get up late. He has also taught his daughter in law how to cook!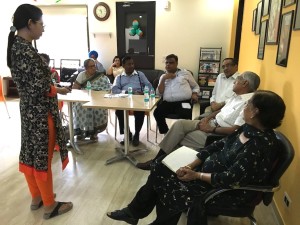 The main causes of intergenerational gaps are lifestyles choices and habits, attitudes and perception, cultural barriers, lack of attention and personal experiences. The role of proper 'communication' is critical to bridging these gaps. Quite often the conflict is around how children are brought up. Participants shared their experiences on how with good communication they managed to resolve some of the situations. Another participant shared that he lived 40 years of his life in Faridabad, but when his son wanted to move to Gurgaon to be closer to his work life, he considered it with an open mind and agreed to move.
The session was engaging and interactive and the participants took part actively, sharing their viewpoints and thoughts. The activities in between kept the session lively and each of the participants felt motivated to share their feelings as each of them were listened to with great interest.
Some valuable insights from their life experience were offered by our participants like 'one must change their own perspectives rather than trying to change someone else's' and "life should be both about dependence and independence'. Everyone concluded that two things are key to nurturing intergenerational bonding – giving time and more time and accepting people for who they are.
We concluded the session by asking the older participants to leave a message for their children. Here are some of the messages we got –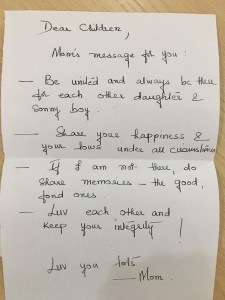 "Dear children, mom's message for you – Be united and always be there for each other. Share your happiness and lows under all circumstances. If I am not there, do share the good memories. Love each other and keep your integrity. Lots of love."
"I wish my children would spend 10 minutes with me each day and ask me how I am doing."
"Thanks for caring and having a responsible attitude towards us."
"Thanks for all the love and affection showered by you and your wife during my visit to your place. Wish you all the best and hope to see you again soon." 
"First of all we should delete the word expectation from our minds. Acceptance is the only answer and solution for no two people are alike. Anger is inferno – burns all around. Think before you talk."
"Dear child, we should sit sometimes to share ideas and suggestions. We should have good understanding and communication."
——–
Great Times by Samvedna is our new social and recreational club in Sector 43, Gurgaon, for members 55 years and above. Its a place where members come to get fit, meet like minded people and share their life experiences and give back to the community.
Activities at the club include fitness exercises, mind stimulation, tambola, dancing, book reviews, movies, community outreach, and talks on health management. The club has a library, computer room, visits by physiotherapists and doctors, access to board games and cards, a fully functional pantry with healthy and affordable snacks and tea and coffee on the house.
Transportation is available on select routes. There are special discounts for group memberships. The club is open Monday-Friday, 11am to 4pm. There are special classes for yoga, computers, spoken english, dance, music and painting. We also have Bridge mornings every Tuesday and Thursday.
Know more here – Great Times Club