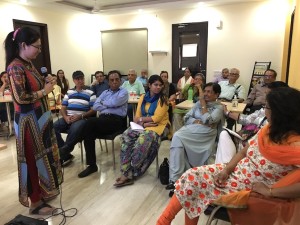 With life of an individual being work centric for the past 35-40 years, a step down from the work life may leave a deep void. With the average life span of an individual increasing, it becomes all the more imperative to plan and prepare oneself for yet another life transition: Old age.
Elderly from different work backgrounds came together to attend the workshop on 'Aging Gracefully' conducted by our Senior Care Specialist Debastuti Baruah. The session began with the seniors introducing themselves and expressing their opinions on healthy aging and retirement.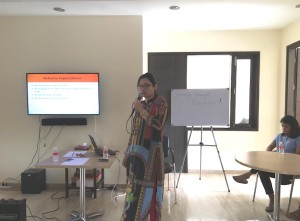 On being asked "How does it feel to be old?" there seemed to be a very positive vibe among the audience: "I don't feel my age", "I'm young at heart, thanks to an active disciplined life", "keeping myself in routine and busy helps". For many, retirement was more of an organizational concept: which doesn't place limits on their capabilities.
She also talked about the psychology of retirement, which in a few ways has been compared to various stages of marriage. These were: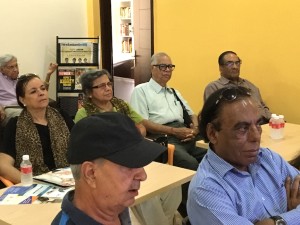 1) Pre-retirement: planning time
2) Big day: smiles and farewells
3) Celebration: I am free!!!
4) Disenchantment: this is it??
5) Reorientation: rebuilding identity
6) Routine: moving on
Important points highlighted in workshop were:
To maintain a sense of purpose
To consider the impact of retirement on oneself first before planning for the future
Reframe expectations: relocation, identity, relations, retirement
Get out of the typical tired role
Stay connected to close friends
Maintaining physical health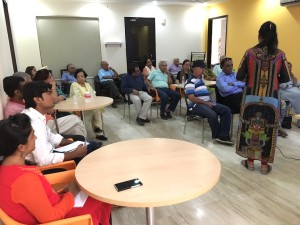 She also talked about how Resources, Exercises, Coping strategies, Intellectual activity, Purpose and Engagement (RECIPE) helps an individual to utilize their time in a better way. All in all, enthusiastic participation, at length discussions and sharing of personal experiences by all the elderly made this workshop a success.
As of one of the members "good physical, mental and spiritual health is the key to enjoy life"
——
Great Times by Samvedna is our new social and recreational club in Sector 43, Gurgaon, for members 55 years and above. Its a place where members come to get fit, meet like minded people and share their life experiences and give back to the community.
Activities at the club include fitness exercises, mind stimulation, tambola, dancing, book reviews, movies, community outreach, and talks on health management. The club has a library, computer room, visits by physiotherapists and doctors, access to board games and cards, a fully functional pantry with healthy and affordable snacks and tea and coffee on the house.
Transportation is available on select routes. There are special discounts for group memberships. The club is open Monday-Friday, 11am to 4pm. There are special classes for yoga, computers, spoken english, music and painting. We also have Bridge mornings every Tuesday and Thursday.