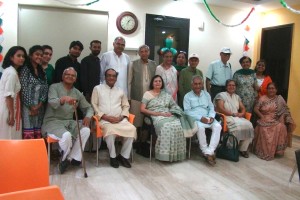 This August, India entered its 71st  year of independence. It's the day when we remember the martyrs who gave their lives fighting for our freedom. Sharing the essence and true spirit of being proud Indians, we at Great Times Club by Samvedna organized a small function celebrating this great occasion. We asked our members to write their wish for India this year. We came across a lot of captivating messages from our members.
Some of the wishes expressed by the members were: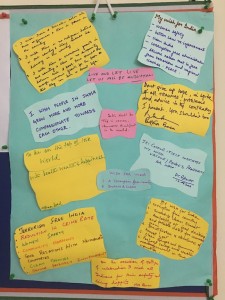 Freedom from terrorism
Better cross-country relations
Corruption free nation
Women's safety
More compassion between citizens
Harmony and peace throughout the nation
A senior friendly environment
The event started with the singing of our national anthem followed by a song by the team of Samvedna. We had a small interaction where in the members shared their earliest memories of Independence Day.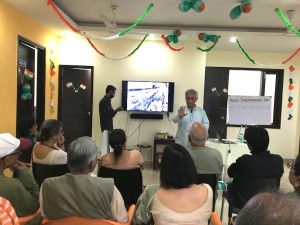 The highlight of the day was a quiz conducted by Mr. Partha Basu, our member and an ex-BBC quizmaster. It was interesting to note that four other nations celebrate their Independence on the same day as ours. Can anyone name these countries? The one hour quiz was very enlightening and insightful. He not only posed interesting questions about the struggle that led to freedom but also shared stories of some of the key events of Indian history. The quiz was well appreciated by all the members.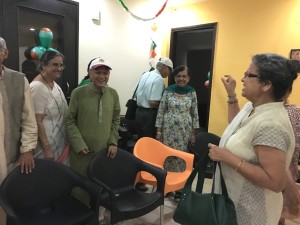 On being asked about his wish for the country on its 70th Independence, he shared "Don't give up hope in spite of all trauma, problems and adversities. Do the contrary: I haven't, you shouldn't too." An engaging and insightful morning followed by refreshments. We at Samvedna would like to wish you all again a very Happy Independence Day!
Great Times by Samvedna is our new social and recreational club in Sector 43, Gurgaon, for members 55 years and above. Its a place where members come to get fit, meet like minded people and share their life experiences and give back to the community.
Activities at the club include fitness exercises, mind stimulation, tambola, dancing, book reviews, movies, community outreach, and talks on health management. The club has a library, computer room, visits by physiotherapists and doctors, access to board games and cards, a fully functional pantry with healthy and affordable snacks and tea and coffee on the house.
Transportation is available on select routes. There are special discounts for group memberships. The club is open Monday-Friday, 11am to 4pm. There are special classes for yoga, computers, spoken english, dance, music and painting. We also have Bridge mornings every Tuesday and Thursday.
Know more here – Great Times Club