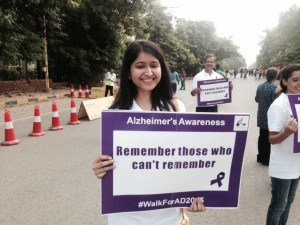 Our Senior Care Specialist Aayushi shares her experience of working with elderly with Dementia, and what she feels makes a difference to their quality of life.
It's hasn't been very long since I started working in the elder care sector, but this short period has given me insights that are worth sharing. My journey as a care specialist is interesting and at the same time challenging. I would like to share my experience about one of my elderly clients, who I visit every week.
She is a 67 year old lady, with vascular dementia. She had been a very independent and authoritative person all her life. But now, because of her condition, she is dependent on full-time nurses and maids for her daily living. Her son lives abroad.  He is very much concerned about her and keeps a regular check on her health and well being.
It's not only dementia but her other medical conditions, which complicate things further at times. I try my best to keep her intellectually engaged and stimulated and also help her with doctor and bank visits, and other household errands. But my main motive is to help her retain independence as far as possible.
Sometimes very easily we tend to take decisions on behalf of her as it makes our job easy. But her son and I make continuous efforts to help her retain her independence by allowing her to keep track of the bill payments, finances and other expenses. That gives her a sense of control. It makes her feel good when I follow her instructions and understands what she is trying to say.
Through this interaction, over a period of time a strong bond of friendship and trust has been formed between us. She is now even comfortable asking me to take care of her wallet and Almirah keys, which is where she keeps her valuables. It was not easy to earn the trust of a lady who is often suspicious about people around her, again because of her condition.
She looks forward to my visits and shares her thoughts and feelings with me. She is unable to remember my name and asks for my name every time I visit her. Every time she has a new name for me. My heart melts when she, once in a blue moon calls, me by my correct name.
Her mother tongue is Bengali and she feels comfortable talking in it. I don't understand Bengali, but we have long conversations. Gestures and expressions come to my rescue and I am able to mostly understand what she wants to say. I patiently listen to her.
Though I can't bring any big changes in her life or cure her problems completely, but the two hours I spend with her gives her an opportunity to be active, mentally, physically, socially and emotionally. It gives her the space to be expressive and independent, which she longs for.
Her unconditional love, trust and responsibility is what keeps me going. It drives me to continue giving her, and the other elderly I work with, the best quality of care and life I can.
---
We at Samvedna Care aim to help seniors live happy, active and independent lives, in the comfort of their home and community through interactive caregiving.
Samvedna Care was established in October 2013 with two complementary goals – firstly to provide quality home care services to seniors with limited mobility and social interaction due to various constraints, and secondly to facilitate stimulating community interaction and participation.
Our Dementia Care services are –

At-home services –
Dementia intervention activities by trained Care Specialists (already mentioned above). These services are available in Delhi NCR and Guwahati
More – Dementia Care Services
Please call us for more info – Delhi NCR – 98184 21446, 124 4229659 | Guwahati – 9864015872
Cognitive Wellness Programme, Sector 57  Gurgaon  –
Samvedna's Cognitive Wellness Programme is designed for seniors with mild cognitive impairment, early dementia or Parkinson's, and elderly lacking in enthusiasm and motivation. The aim is to stimulate the mind of the elderly to slow the progression of the disease or impairment. The sessions are 3 days a week, 11AM-1PM.
More – https://www.samvednacare.com/cognitive-wellness-programme
Dementia Support Group –
Our Dementia Support group in Delhi NCR and Guwahati is a platform for caregivers to share feelings and support each other.
More – Join a Support Group
Please call us for more info – Delhi NCR – 98184 21446, 124 4229659 | Guwahati – 9864015872