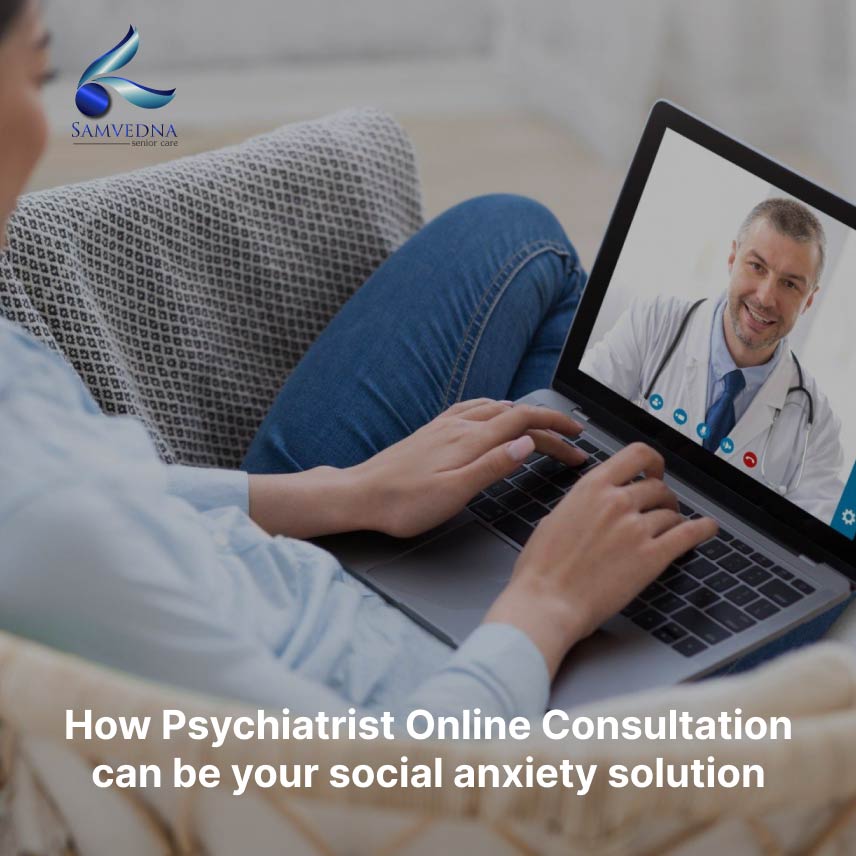 While it may be difficult to reach out for help when one is mentally disturbed, it is also crucial to validate your emotional and mental state of being in the right way.
Most of the time, we assume that it's okay to live with a particular mental disorder and that we will do just fine without seeking assistance. However, we do not realise that we start building walls around us, pushing away people who genuinely want to help us. And this, in turn, leads to despair and loneliness.
Neglecting the necessary medical assistance can only complicate things and can deteriorate your mental health. And suppose you are someone who has social anxiety or doesn't feel brave enough to sit with a therapist and talk face-to-face to find a solution. In that case, Samvedna Care has the right option for you with Psychiatrist Online Consultation to provide you with the best assistance in your own comfort zone.
The Significance of Seeking Advice
In the modern world that we're living in, it is a norm to stay strong on our own, and if an individual seeks help, he/she is portrayed as weak, and the stigma around it keeps most people away from seeking the right help.
However, seeking help should be encouraged and seen as a normal part of treatment, and Samvedna Care is here to stand by it.
Initiating the confidence to heal yourself is what makes you stronger and recovering with that assistance makes you bolder.
The Boon of Psychiatrist Online consultation
Online consultations' main objective is to prioritise patients' concerns while providing them with appropriate advice and practical insights. At the same time, it is convenient as one can be comfortable in their own home. Those who use this facility benefit a lot from it.
Book an Appointment at the Click of a Button
One of the most significant advantages of a Psychiatrist Online Consultation is that you don't have to be physically present to receive the treatment. It's way more convenient and appropriate than it would've been offline. The best thing about this service is that you can book an appointment with us from anywhere at any time.
Confidentiality
This service also allows you to maintain your privacy and anonymity, giving you the best experience overall. Most individuals would rather be comfortable speaking out about their concerns than discussing them in a physical meeting. Furthermore, the documentation, records or reports submitted/received will be all kept safe and secure.
Early Detection and Prior Treatment
When an individual experiences an instant onset of illness or notices unusual behaviour, online consultation can be the best approach to seek immediate advice. It will help avoid any extreme situations and enable the problem to be dealt with before it becomes unmanageable.
Save Your Time & Expense
Additionally, do not forget that online consultations is cost-effective and time-saving. We also have a free online assessment tool called Samvedna MAP, where you can assess and understand your mental health, further creating your self-care plan accordingly.
Avoid Exposure to Other Illnesses
Patients are more likely to retrieve quicker through online consultation than in health centres or hospitals. Because exposure to others' illnesses is completely absent through online consultation, hence avoiding the risk of shared Illness. When the patient is treated individually in their own space, the recovery process is much more effective, and thus, the healing can be carried out without distractions.
Why Should You Seek Our Help?
At Samvedna Care, our mission is to improve the mental health of adults and elders.
Getting adequate support in the modern world is a challenge. Hence, treating the patients with ultimate care and being compassionate towards them is extremely crucial.
During Psychiatrist Online Consultation, we understand how to switch roles according to the patient's best medical interests, promoting a sense of belongingness. Additionally, we stay in constant contact with patients throughout their recovery and provide the best care management.