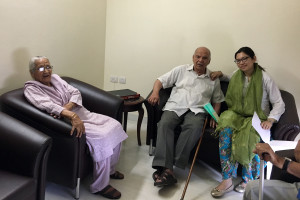 Senior citizens are an extremely vulnerable section of the population globally. Vulnerability means not having adequate safeguards or being at risk. Broadly, vulnerability among the senior citizens can be emotional, physical, financial and social. Thus, it is extremely necessary to protect the elderly from such vulnerabilities in order to lead a happy and safe life.
Elders are susceptible to vulnerabilities, many a times at their home, which is generally considered the safest place that is free of danger. Senior citizens living alone usually fall prey to unsafe conditions at home.
We've put together some safety tips for seniors for when they are at home:
1) Keep emergency numbers handy – For example- family members', hospital, fire extinguisher etc.
2) Preventing falls
Corridors, staircases and rooms should be well lit and clear.
Taping all are rugs to the floor so that it doesn't move while walking.
Wearing non-slip footwear while walking on smooth floors.
Installing grab bars wherever necessary, most importantly in the washroom to avoid falls.
Anti skid tiles in the bathroom.
Putting rubber mats in the bathroom can also be useful.
3) Medications
Keeping all medications in their original containers to avoid confusion.
Taking medications in a well lit room.
4) Protection against burglary, theft and fraud
Keeping doors and windows locked every time.
Not leaving spare keys outside at any cost because thieves are experts at locating hidden keys no matter how cleverly it has been hidden.
Having photographs of the valuable possessions at home for proofs to make an insurance claim.
Avoid keeping valuables or large amounts of cash at home.
Not opening up doors to people who randomly come to repair or fix something at home. Prior verification should be done.
Never tell people about living alone.
Limit the number of rooms to a visitor. Don't show strangers what you have at home.
Safety, to a great extent lies in our hands. A few changes in the daily living can help create a secure environment where the elderly can live risk free and healthy. Negligence of such safety issues should not hamper the beautiful years that are to be spent reminiscing old memories and making the most out of one's second childhood.
---
Samvedna Care – Emergency and Respite Care:
Our emergency support service is for times when an elderly needs assistance in a hurry. In case of an emergency like a fall, sudden illness or unplanned travel, we are one phone call away, ready to step into action and deal with things. The services include ambulance assistance, an on-call helpline (8am-8pm), hospitalization support and more.
Respite care services give caregivers an opportunity to leave home for a few hours for errands, appointments or simply to unwind, with the peace of mind that comes with knowing their loved ones are in capable hands.
More –Join a Support Group