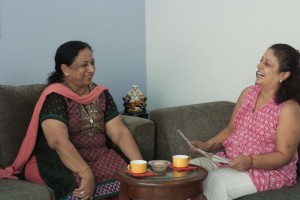 Our Senior Care Specialist Ayushi has put together a few simple steps for you to help your parents age healthy, within the limited amount of time available to us in today's fast paced life.
The hectic pace of today's 24-hour lifestyle may be wreaking even more havoc on our health than we realize. It also leaves us with limited time to care for our ageing parents.
Healthy ageing is about "optimizing opportunities for good health, so that elder people can take an active part in society and enjoy an independent and high quality of life". Here are some ways in which we can help our parents age healthy –
Create social opportunities – Encourage your parents to participate in different activities like by becoming a part of some Senior Club, centre or forum, which would help build social connections and improve well-being. Being social helps to reduce loneliness, depression and other mental health issues, which many of our parents might be facing but never express.
Build physical fitness into their routine – Motivate them to become physically active as it promotes endurance, strength, balance and mobility. You must have observed your parents becoming less active as they are getting older. Nevertheless, it is never too late to take up a new activity like tai-chi. Physical activities including walking, cycling, yoga, exercises, combined with social activities are particularly good for health and community life.
Help plan nutritious meals – Good nutrition and healthy lifestyle, plays a significant role in determining well-being. Include more fruits and green leafy vegetables, and avoid fatty and high calorie food as far as possible in their diet. Monitor their intake of sugar and salt. They can also try/follow the Mediterranean diet .
Encourage learning – Convince them to learn something new. It promotes social inclusion, enjoyment and better mental health. We should try to ensure that opportunities to access, retrain and learn new skills are available to them.
Make them comfortable with technology – Technology can enable people to remain more active. They can create and maintain social networks, stay in touch with friends and family, access goods and services, and engage in work or voluntary activities. However, it is important to give adequate time to become accustomed to new technologies. It will also prevent your parents from being 'left behind' and reduce the "generation gap".
Make time – The valuable thing you can give your parents is your time. Try to take some time out from your busy schedule and spend some quality time with your parents. Prepare a meal, go shopping, watch a movie or simple go through family albums together. Plan to have a family meal together, which has declined or in some cases completely disappeared over the years.
Show you care through small gestures – It might not always be possible to be physically around, but we can always express our love and care through small actions like making a call, leaving a note/SMS, a surprise gift etc. These small little gesture can make a big difference and bring in them a sense of happiness and importance.