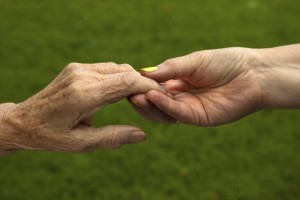 Death is inevitable but consoling a loved one who has lost his/her spouse becomes more difficult when the deceased is your parent. Helping and comforting your parent while going through your own loss can be very challenging at an emotional level.
It is very important to understand that grief has its own course, some can get over it in a few months while some live with the grief forever. Most importantly, everyone should be allowed to go through the entire grieving process and only then a person can accept the loss of their loved one and move on with life. Else the person will be fixated in it forever which will lead to other serious consequences.
There is no right way to deal with the death of a spouse nor any set guidelines which will help in dealing with the loss. Losing a spouse is not similar to losing a parent, so we cannot assume what he/she is going through. Patience and support is very important while helping your parent undergo the grief of his/her spouse.In addition to support and giving them time to mourn, looking after their health and other needs is also important.
Here are some pointers for being there with your parent through his/her grief:
Grief can be hard on your parent's health. Proper diet and sufficient sleep is very important to deal with the emotional stress. Children should keep ensure that their parent is taking his/her medicines regularly on time.
The stress of grief can weaken the immune system and this may trigger a frequent cold, lead to a lingering illness or flare up existing conditions. Regular

medical checkups are essential to keep a check on their health parameters. Also the doctor should be aware of the undergoing bereavement so that they provide medical advice accordingly.
The grief of losing one's spouse may bring problems in doing their daily activities. Problems of disorganization is due to the isolation and loneliness.You can help him/her plan a schedule or offer to help. Spending some quality time together would not only bring you both closer but also be a good support for each other.
Avoid making major changes in your parent's life immediately like shifting to another place. While your parent is still mourning and adjusting to the vacuum in his/her life, any significant change can lead to other complications like going to depression, adjustment issues, increasing confusions etc.
Grief can be a jumble of contradictory emotions: anger, longing, relief, guilt, regret, depression, panic and even hysteria So it is quite normal for a grieving parent to snap over minor issues at you. Just be understanding and patient as he/she may be angry about the death of one's spouse. Invite friends and family members frequently so that they can meet and talk to other people.
Forgetfulness or inability to concentrate is one of the important signs of your parent's grief; they might miss important appointments or skip bill payments. In such situations you should be understanding and help your parent by reminding them about such important tasks .
If you feel that your parent is unable to get through the grief alone consider taking professional help like short term therapies, grief counselling etc. Joining a senior recreational centre or spiritual activities can also help your parent gradually move forward.
The most important thing you can do for a grieving parent is to simply be there; your support and caring presence will help him or her cope with the pain and begin to heal.