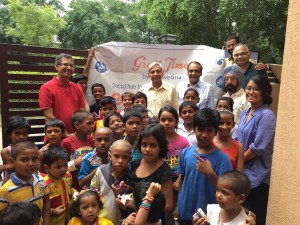 As a part of our Community Outreach program Great Times club members visited Desire Society ( Home for HIV+ children) in Sun City, Gurgaon on the occasion of Janamashtami.
Our members interacte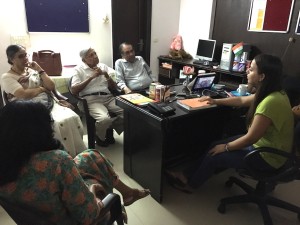 d with the program coordinator a few days before we all went there, and understood the needs and challenges of the children living there.
We interact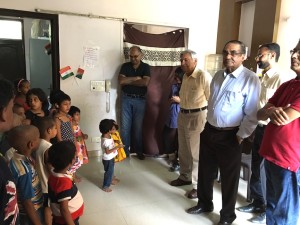 ed with the kids and asked them too what help they would need from us. It was heartening to hear that they wanted help with their homework especially in subjects like Maths and English.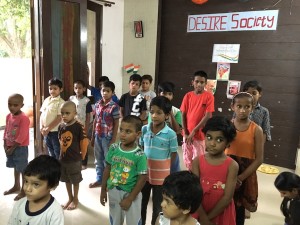 We then celebrated Janamashtami by singing bhajans and discussing the importance of the festival. Also the kids shared how they celebrated the occasion in their school. We distributed sweets and juices to the kids and promised to come back soon with some outdoor activities. Our members were impressed with the children and felt good to interact with them, in fact a couple of them have signed up to volunteer their time to teach them Maths and English.
———
Great Times Club by Samvedna's  Community Outreach Programme
This is a social service programme for club members, to give them a platform to bring together seniors who want to volunteer and make a difference in people's lives.
Our first two projects are in collaboration with NGOs working with children.
Harmony House (Sector 17A, Gurgaon) – Harmony House is a day care centre for children from neighboring slum areas. It caters to more than 500 children, between ages 2-17 years. Over 400 children from this centre have been enrolled in regular government and private schools. We are bringing together a group of seniors to teach these children english, maths, moral education and life skills.
DESIRE Society (Sector 54, Gurgaon) – DESIRE Society is a Hyderabad based NGO that works with children affected by HIV. The building houses 27 children between ages 2-15 years.Volunteering opportunities include teaching english and moral education and taking the children out on social outings like picnics, tree plantations and awareness drives, and celebrating festivals with them.
If you wish to be a part of our programme, please call us on 9818421446, 0124-4229659 or write to us on contact@samvednacare.com
——— 
Great Times by Samvedna is our new social and recreational club in Sector 43, Gurgaon, for members 55 years and above. Its a place where members come to get fit, meet like minded people and share their life experiences and give back to the community.
Activities at the club include fitness exercises, mind stimulation, tambola, dancing, book reviews, movies, community outreach, and talks on health management. The club has a library, computer room, visits by physiotherapists and doctors, access to board games and cards, a fully functional pantry with healthy and affordable snacks and tea and coffee on the house.
Transportation is available on select routes. There are special discounts for group memberships. The club is open Monday-Friday, 11am to 4pm. There are special classes for yoga, computers, spoken english, dance, music and painting. We also have Bridge mornings every Tuesday and Thursday.