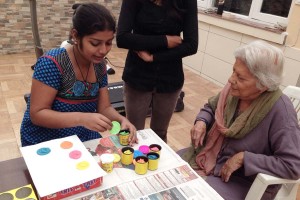 Have you asked yourself, "What is my passion?" Ever wondered, "What is that one thing I love doing and I am good at?"
Doing things that we like is better than doing things we don' right?  When tap into our talents and enjoy doing something we tend to not only do it better and more regularly, but also do it with a smile on our face.  So, as much as possible, we should try to spend our most valuable resource – time, in doing something more along the lines of what we want to do.
Today the Internet has given us access to all kinds of information, making learning easy. That makes now a great time to learn and pursue things we are passionate about! Keeping ourselves engaged in interesting and meaningful work and hobbies keeps our mind nimble, specially as we age, and gives us a sense of purpose. A life without purpose can be terrifying. Finding a passion at time like this can feel like finding our personal road map. It leaves us motivated and inspired, and clearer about our next steps. It provides a light to help us through dark times, and also an ongoing set of benchmarks by which we can see our personal development. The cherry on the cake is mastering a skill, which gives a confidence boost!
There is no magic formula to find our passion later in life. It's already in us. But there are a few simple measures which can help us in making us self aware. These include slowing down, looking at different perspectives, appreciating our uniqueness, cultivating confidence and pushing past fears. Individuals entering their retirement years should believe that their most creative, enjoyable and fulfilling pursuits may just be starting. By starting a new activity or developing a hobby that engages their mind, they will be able to live their later life to its fullest — while also maintaining a healthy brain.
We often hear of inspiring stories of seniors not just developing a hobby, but a passion they pursue with a purpose, in their later years.  A septuagenarian who has never taken a brush to canvas finds herself excelling at art. A retired executive who never showed any musical proclivity takes up the violin with exceptionally melodious results. A grandmother who spent years caring for her grandchildren may discover, now that she has time to sit down at a computer, that she has a genuine talent for writing short stories.
Age Should Not Be a Deterrent. The notion that people who have reached their 70s and 80s are generally in mental decline can be disproven by seniors who are mastering activities that they've never tried before. Those who are fearful that they no longer have the mental acuity to learn something new should be heartened by the latest neuroscientific research, which shows that people can become proficient in new endeavors at any age.
It used to be thought that the brain stops producing new neurons at a certain time of life, but we now know that the process of neurogenesis — the creation of new brain cells — happens pretty much throughout life.  We also know that the brain, as long as it stays healthy, will continue to make new connections. So, what that means is, contrary to the old belief that one can't have the capacity throughout our lives to learn new skills, new hobbies and adopt new attitudes, all this is doable! There's no reason why individuals in their later years can't take up art or learn to play a musical instrument or try their hand at writing. However, older adults shouldn't expect to cultivate these skills entirely on their own. One should look for a person who can give you encouragement, inspiration and guidance, which is the feedback that enables you to improve.
Creative endeavors like gardening, cooking and the ones mentioned above, challenge the brain and therefore have a positive impact on it. The more we think, the more we learn and the sharper our brain becomes. If the hobby we choose has a socialization aspect, then all the more better. Socialization too is important for brain health.
So get in there. Get engaged. Be brave and go for it, and living each day will become a pleasure and something we look forward to!
——
Samvedna Senior Activity Centre in Sector 57, Gurgaon offers seniors a space to nourish their mind, body and soul, participate in purposeful and recreational activities, interact socially and unwind.
The Get Creative program at the centre will give seiners a chance to explore and express their creative side through activities like art & craft, gardening, cooking, pottery, painting and creative writing. There will be individual as well as group activities. This will also be a platform for members to do small collaborative projects, display their skills and talents, and learn and teach. Know more here –