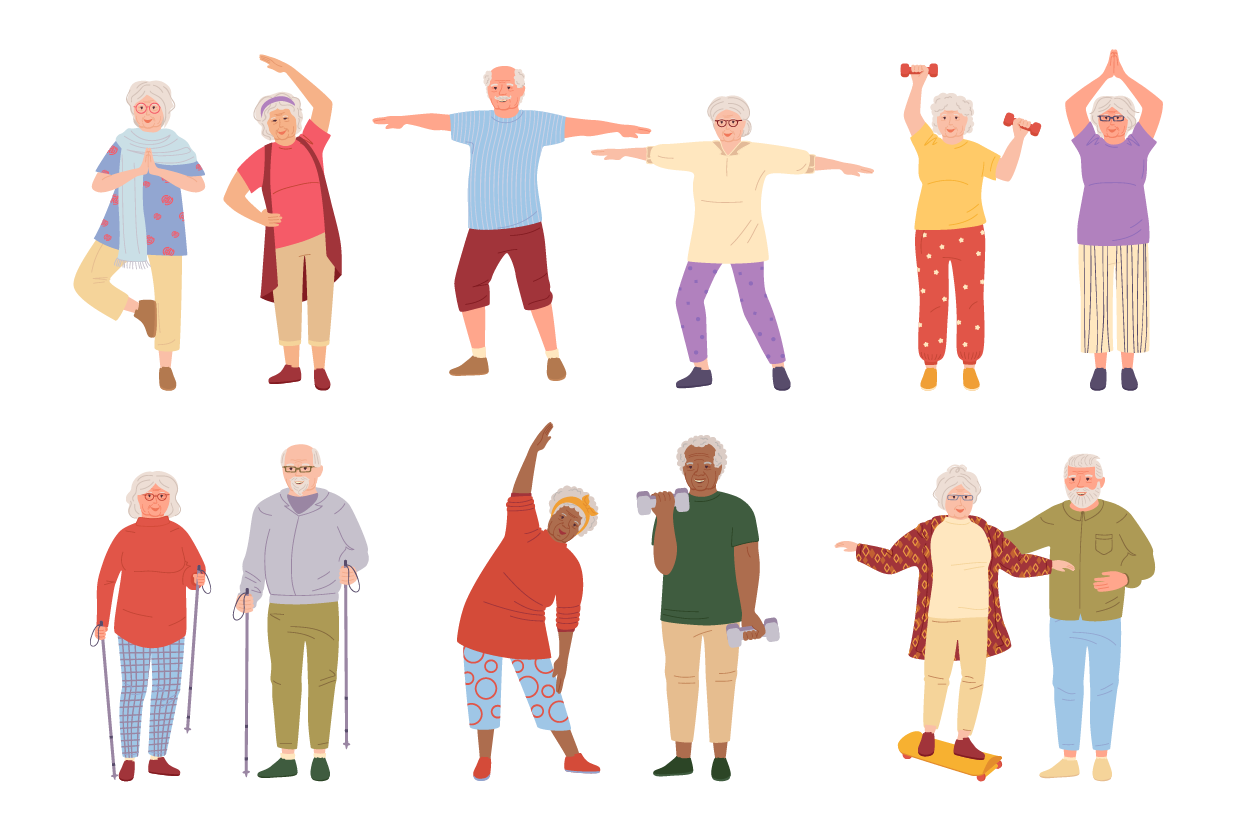 Aging is a natural phenomenon but let's face it— nobody likes feeling old! Nowadays due to the sedentary lifestyle, a person has an average life expectancy of 60 to 70 years. In the previous era due to their lifestyle, people were often fit as horses even at the age of 70!
When one is in their mid 20's or 30's, then they have ample time to work on their body to make it healthy enough to survive on low energy. However, elder person, they need to keep on working on their body to maintain it. Here are some exercises and health advice that might help an elder person for healthy aging:
Water Aerobics
Water aerobics exercises improve your strength, flexibility, and balance with minimal stress on your body. Here are some forms of exercises that might be helpful:
Aqua Jogging
Flutter Kicking
Leg Lifts
Standing Water Push-ups
Arm Curls
Chair Yoga
Regular chair yoga practitioners have better quality sleep, lower instances of depression, and report a general sense of well-being. Here are some forms of Chair Yoga that might be helpful:
Overhead Stretch
Seated Mountain Pose
Seated Twist
Pilates
Pilates has been shown to improve balance, develop core strength and increase flexibility in older adults. Some great pilates exercises for older adults include:
Side circles
Foot slides
Leg circles
Step-ups
Resistance band workouts
Resistance band workouts are ideal for home exercises. These exercises are specially for strengthening your core, which improves posture, mobility, and balance. Resistance band workouts for seniors include:
Leg press
Triceps press
Biceps curl
Band pull apart
Apart from daily exercises, an elder needs to look out for a healthy food routine. A healthy diet along with daily exercise results in healthy aging for the elderly. Make sure the elders have a complete diet that includes healthy liquids and a variety of vegetables-meats. More so, for ease, plan their meals with less salt-sugar and more healthy fats.
While planning the health routine of elders can be challenging but it falls into place with time. Still, if you need help and want to supervise their daily health exercise routine then Samvedna Care can be of help. You can choose from their General Wellbeing, Attendant Care, and Personal Care Services.