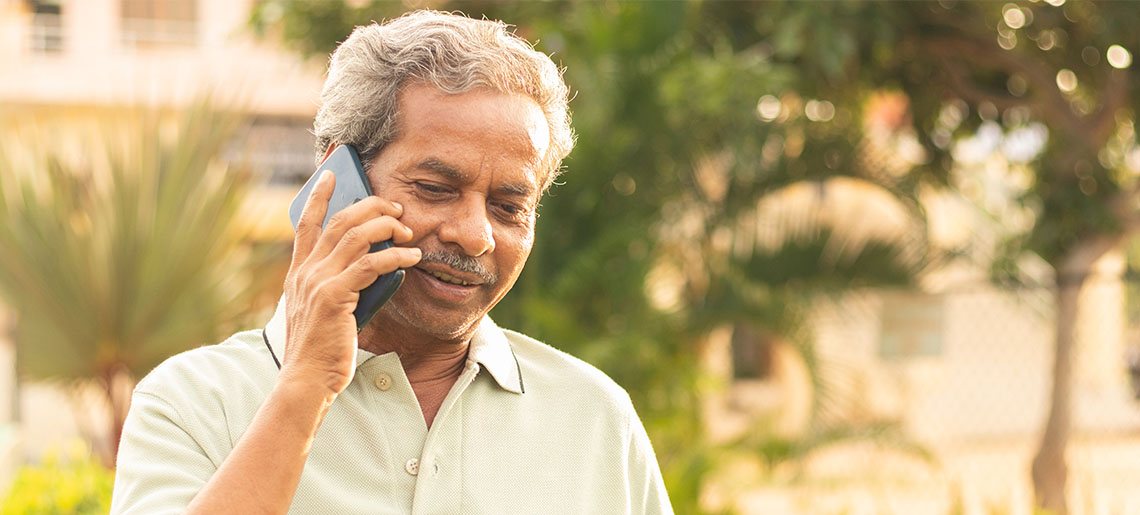 Caring for older parents comes with its challenges. Furthermore, living far away from them only adds to those challenges. However, these challenges can be easily met and dealt with keeping a strategy in place for any emergencies that may prevail. With that said, Samvedna Care does everything to facilitate the caring of your parents and makes sure they receive the best emergency services for seniors in Delhi; even in your absence!
Nevertheless, here are some of the steps that will ensure the comfort and safety of your parents even when you're separated through distance:
Check up on them; and regularly!
If there's anything sure to uplift the spirits of older parents, it is to hear from their children; and regardless of how far you are, to them, you're just a phone call away! While the personal care services from Samvedna Care are equally good, a child's attention unequivocally means more to an older parent. Staying connected with parents through phone calls and video chats is far more important to them than they can articulate to you in words. And for every other need, you can choose from the host of personal care, health care and emergency support services from Samvedna Care!
Consider opting for Emergency Support.
One of the most daunting concerns about staying away from parents in their old age is not being able to cater to their emergency needs immediately, medical or otherwise. However, with Samvedna Care in Gurgaon, Delhi, and spread through the NCR, the concern is now worrisome no more!
The Emergency Support service promises immediate assistance 24*7, and emergency hospital visits and medical services for seniors in Delhi NCR are merely a phone call away. In case of a sudden illness or when the need for hospitalization arises, you can quickly avail:
Ambulance Assurance – The team at Samvedna Care will ensure that an ambulance is made available to your parent on time in case of any emergency. What's more, all these ambulances support BLS and ALS.
On-call helpline for elderly – The team is available 24*7 to facilitate your parents on-call on/during medical emergencies. Each call then evaluates the criticality of the situation and initiates the befitting support while also monitoring in real-time by a team of care managers and doctors.
In addition to these extremely vital emergency services, many more are on offer that ensures holistic coverage of emergency services. Right from Doctor's consultations to Care Management support, hospitalization support to TPA clearance, Samvedna Care owns the responsibilities like you would, as your parent's child.
Advocate for your parent's health.
Old age is inevitable, and so are the responsibilities that you have to shoulder after your parents enter their old age. With that comes the need to be proactive in making their healthcare decisions, and helping them understand what is best for them, and why. Advocating for their health, and acquainting them to some of Samvedna Care's facilities would help them be prepared better in emergencies. Not only does Samvedna Care offers medical services, but also about everything that will ensure your parent's best health. Be it assistance through companionship, facilitation in daily activities, diet management, and even professional care for those with psychiatric illnesses. 
Advocating for your parent's health is a job that you can do best; enabling them with better health and health management is something that Samvedna Care is best equipped to shoulder the responsibility of!
Right from catering to the physical, intellectual, and emotional wellbeing of the elderly, Samvedna Care expertizes in aiding them during emergencies while also promising them a happy, active, and independent life.
Understand what constitutes an emergency.
Most older parents tend to shy away from seeking any help, and denying it in emergencies can result in extremely unpleasant consequences. But, taking out the time to discuss with them about such situations and figuring out together what may or may not constitute an emergency is possibly life-saving. Try to monitor and list out symptoms (if any) like fainting, severe pain, heavy bleeding, shortness of breath and excessive vomiting as all of these do warrant an urgent trip to the hospital. It may even help them avoid some of the more worrying and long-term medical problems.
The warm and compassionate care attendants from Samvedna Care too help a great deal in persuading them to understand, acknowledge and accept help for their existing issues, and receive support for emergencies that may arise in the future.
Parent's safety is always an important concern for their children, especially for those that live far away. And Samvedna Care with its emergency services for Seniors in Delhi and NCR ensures the best emergency care for your parents!