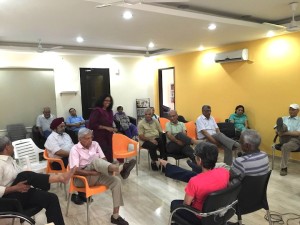 In India approximately 7 crore people suffer from diabetes, as a country we are the second most diabetic country in the word. Therefore it was not a surprise when Dr. Satish Chawla suggested that he would like to do a talk on Diabetes and related ailments for our members. It was a simple and informative discussion explaining the symptoms, criteria and complications of diabetes. He recommended a diabetic diet and the importance of calorie intake in controlling diabetes.
He also touched upon the common diet behavior observed and stressed upon the fact that a very strict control can also be detrimental at times. Dr. Chawla also discouraged "food for diabetes" and explained why such foods have little nutritional value.
To summarize, he stressed upon:
Eating a healthy balanced diet.
Avoiding heavy meals
Avoiding refined sugar
Avoiding fried and nutritionally poor foods.
There is no food component which is "banned".
Risk factors of diabetes:
Obesity is a direct risk factor for diabetes.
Central obesity vs truncal obesity, Apple vs pear shaped body.
For men abdominal girth over 40" and for woman 36" increases the risk of diabetes.
Yoga for Seniors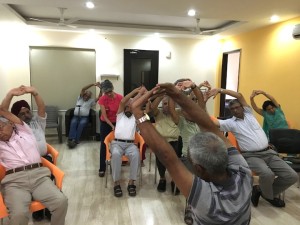 The talk was followed by a workshop on Yoga and its benefits for our members, conducted by our yoga teacher Dr. Rashmi. She explained the meaning of Yoga – union of body with mind. Various asanas and breathing exercises were demonstrated with the help of one of our members who is already learning Yoga at our centre. Dr. Rashmi also showed how many asanas can be done sitting on the chair or standing since many senior citizens find it difficult to sit on the floor.
Being a senior citizen herself Dr. Rashmi could easily relate to the problems and solutions seniors would be looking for while doing Yoga. Her cheerful and motivational approach pepped the audience to do the exercises impromptu. All in all it was an informative and rejuvenating session, enthusiastically enjoyed by all attended!
———
Great Times by Samvedna is our new social and recreational club in Sector 43, Gurgaon, for members 55 years and above. Its a place where members come to get fit, make new friends and share their life experiences and give back to the community.
Activities at the club include fitness exercises, mind stimulation, tambola, dancing, book reviews, movies, community outreach, and talks on health management. The club has a library, computer room, visits by physiotherapists and doctors, access to board games and cards, a fully functional pantry with healthy and affordable snacks and tea and coffee on the house.
Transportation is available on select routes. There are special discounts for group memberships. The club is open Monday-Friday, 11am to 4pm. There are special classes for yoga, computers, spoken english, music and painting. We also have Bridge mornings every Tuesday and Thursday.
Call us for more info – 9818421446, 0124-4229659 | Address – Great Times, 1304 St. Thomas Marg, Sector 43 (Opp Shalom Hills School), Gurgaon