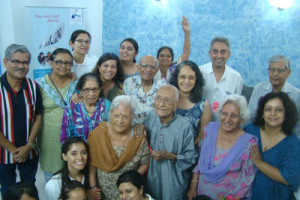 Regardless of one's age, everyone loves to have fun; and senior citizens with Dementia and Alzheimer's are no exception. At the second Support Group meeting held on 11th July, the seniors were reminded of that fact that having a good laugh and sharing enjoyable activities can be a wonderful way to stay actively engaged in life.

Despite it being a rainy morning threatening to wash down the event, we were pleasantly surprised to see members and guests pouring in, and by 11.30 am almost all the invitees had settled in and we were ready to get started with the day's agenda. It was a pleasant sight to see the exuberant staff in their white Samvedna t-shirts and, as always, the enthusiastic team had a host of fun activities lined up for the guests.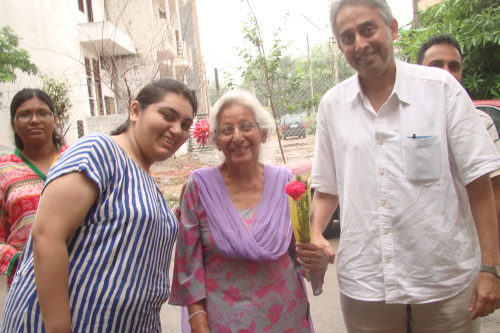 Each guest was welcomed with a flower and in return we got priceless smiles from them. After this cheerful start, we moved forward with an interesting story based on relationships. Stories often strike the right chord to send out a clear message and this is why everybody finds it worthwhile to lend their ears to a good story.  This was followed by a 'Just a Minute' session which served as a perfect warm-up activity. As the name suggests, the session comprised three brief activities: sorting, writing and Chitrahaar, and a minute was dedicated to each of these.  All the members participated enthusiastically.
Next on the agenda was another meaningful activity called 'Trip down the Memory Lane'. Guests had the opportunity to share the cherished events of their lives.  As seniors recounted the glorious days of their lives, the family members and staff listened with rapt attention and were left overwhelmed as they got the opportunity to be privy to the personal narratives and experiences. The active participation of all the members also allowed some seniors to reveal their hidden qualities and talent.  As seniors got comfortable sharing, many expressions of love, which were hitherto lying unexpressed, came forth. One of our members expressed her love for her husband. She said "My husband is loving and supportive and being with him makes me happy".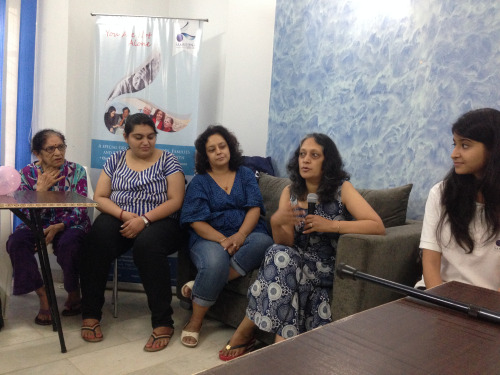 This wonderful platform for sharing made us realize, through the life experiences of our senior members and guests, that life throws many challenges at us, and every challenge brings with it the strength and courage to conquer it. On a lighter note, another member humorously shared how his wife had hidden the fact that she was a school teacher at the time of marriage thinking that he might not marry her. It was very touching to see his wife claiming unabashedly, "I have not seen such love anywhere".  Seeing their love and faith in each other was amazing.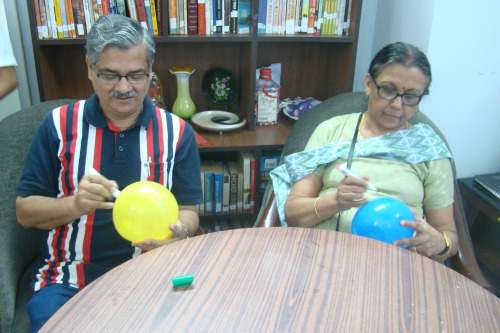 This exercise of sharing thoughts and experiences also resulted in bringing to the fore some buried questions that lay unanswered, and striving collectively to find answers to them.  "WHY ME", is often the first question we ask when we find ourselves trapped in a difficult situation. One of our guests shared that she had been unable to find an answer to why she had to suffer from Alzheimer's Disease.  She had not been able to come to terms with the fact that, despite having led a happy and contented life with her fantastic family, she became an Alzheimer's patient.   Other members shared their experiences and attempted to give explanations to these types of metaphysical questions that life throws at us.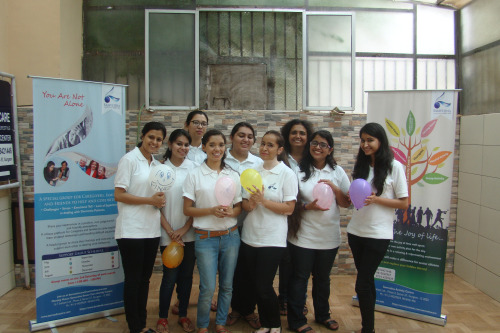 To lighten up the mood, a chair-dance session followed in which all present danced to the evergreen Hindi song "Baar Baar Dekho, Hazaar Baar Dekho". The dance brought an instant smile and a spark of joy to everybody.   The meeting ended with singing the national anthem and capturing some beautiful smiles on camera. Members, as well as guests, expressed immense satisfaction and thanked the Samvedna staff for a morning well spent.  And the Samvedna team was overjoyed to see its objective being met.