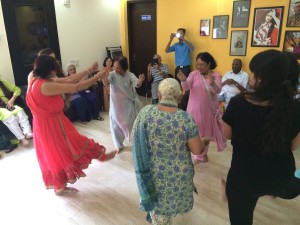 Exercise in any form is great for a person, and dance is no exception. Through dance we experience freedom of emotion. Be it joy, remorse, contentment, anger or sadness, dance can be used to convey each of these expressions. It is a way to express the latent thoughts and feelings one has. It is also known to increase self-confidence and self-esteem. At a physiological level, is great for developing muscle strength, body coordination, enhancing balance and also for knowing one's body in space. The best part about dancing is that it is never restricted by age! It is an art form that can be engaged by anyone and everyone. Believing in this mantra and the countless advantages it has, we organized a dance workshop conducted by a talented and enthusiastic dance instructor Mrs. Neera Anand.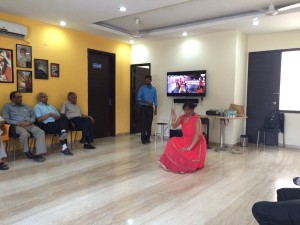 The session started with Mrs Anand introducing herself and then spoke about her experiences as a dancer and dance teacher, specially teaching senior citizens. Her group of senior citizen dancers have performed all over Delhi. She even shared a video of their performance at a recent event. She then enthralled the audience with a short dance performance of a routine from their performance at the grand World Cultural Festival.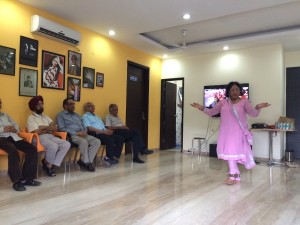 The highlight of the workshop was a dance by one of her students who is 71 years old. Her graceful and enthusiastic performance on thaare rahiyo from Paakeezah was received with awe and cheers from the crowd and left us all feeling inspired. Age really is a number!
In the second half of the workshop, it was time for all workshop participants to put on their dancing shoes. With navratras around the corner, she started with teaching the participants garba. This was followed by ever popular Bollywood dancing by all present. All in all, it was a fun interactive session. The idea behind the workshop reached across, that it's never too late to dance. As they say… nobody cares if you can't dance well. Just get up and dance!!!!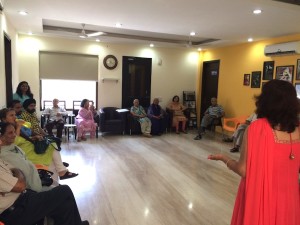 We are now starting Dance Classes for Seniors at Great Times Club, twice a week. The dance taught will be a mix of Bollywood, folk and classical to keep the classes exciting and eclectic. The fee is Rs 2,000 a month (for 8 classes). Please call us 9818421446 to know more or to join.
——
Great Times by Samvedna is our new social and recreational club in Sector 43, Gurgaon, for members 55 years and above. Its a place where members come to get fit, meet like minded people and share their life experiences and give back to the community.
Activities at the club include fitness exercises, mind stimulation, tambola, dancing, book reviews, movies, community outreach, and talks on health management. The club has a library, computer room, visits by physiotherapists and doctors, access to board games and cards, a fully functional pantry with healthy and affordable snacks and tea and coffee on the house.
Transportation is available on select routes. There are special discounts for group memberships. The club is open Monday-Friday, 11am to 4pm. There are special classes for yoga, computers, spoken english, dance, music and painting. We also have Bridge mornings every Tuesday and Thursday.