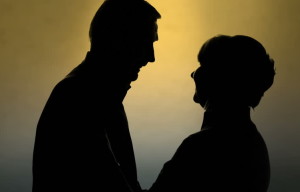 Marriage is a scared union between two people, where the couple vow to hold on to each other for better or for worse, in sickness and in health, until death separates them apart. But what happens when one of the loved one does not remember, not only the vows, but the spouse with whom he/she took the vows?
Dementia is a chronic brain disorder which tends to have an effect on an individual's memory and other cognitive abilities, like cohesive thinking, problem solving and language. Due to lack of awareness, understanding and knowledge, people are still taking their time to acknowledge dementia as a disorder. As hard as the diagnosis of dementia hits anyone, it most certainly disturbs the spouse the most.
Imagine to have lived almost all your life with someone and waking up to a realization that she has minimal recognition of you, moreover she has minimal recognition of herself. Let's look at some of the challenges faced by couples once one of them is diagnosed with Dementia :
Definition of marriage changes from romantic partnership of emotional and physical intimacies to a care partnership.
The couple gets affected because there is lack of shared activities, emotional support from the other half and most primal of them all, a lack of verbal conversation.
Most of the time, the spouse tends to suffer from emotional strain of frustration and annoyance and one third of them tend to suffer from depression.
The couple experiences a profound sense of grief, because they feel robbed off their identity as a couple.
There is difficulty in continuing with the old social life that the couple once had, for example, going for movies, attending weddings or parties etc. Many a times the partner feels embarrassed because of the spouse's responses. Also a lack of contribution in conversations results in withdrawal from social circles.
The caregiver spouse tends to suffer from a sense of isolation and abandonment.
Women caregiver spouse, tend to suffer the most because of painful role reversal and lack of support from the other half. She is now burdened at the domestic front as well has to take control of all the financial, logistics and paperwork.
Understanding the loss of a perfect marriage and recreating the union with new set of vows
It is very challenging to cope with someone who has dementia because the spouse tends to become the primary caregiver, which leads to drastic change in the dynamics of the sacred union called, marriage. This change in dynamics and the diagnosis of the other half is understood only by a level of acceptance, love and duty, keeping in mind the vows that formulate the roots of this relationship. Here are some ways on how to introduce yourself to the new set of rules, how well to adjust to this relationship which has its roots running deep in the dearth of care, and lastly what do and how to cope with your own vulnerabilities.
The First step is to be "Aware". Once dementia is introduced to the family, it is important to be aware of the disorder, to understand the symptoms, progression, treatment and management of the disease. One should re-look at the financial implications to support the care, treatments and medicines, and lastly be aware of the emotional stress that may impact the relationship.
The second step is to "Accept". One needs to accept the onset of symptoms, not to take it as an age related behavior, rather accept it and act on it. The couple needs to understand the change in dynamics, the consequences that shall arise and it is very important to accept the partner's vulnerabilities as he battles with the disease.
The third step is to "Acknowledge" one's own health. While the spouse gets too engrossed in taking care of the other, it is often noticed that he/she stops taking care of themselves and acknowledging their own health. It is very important to take care of your own physical health needs such as medicines and regular checkups along with the emotional health needs.

 

One should engage in relaxation exercises like regular walks, socializing with people and practicing yoga.
The fourth step is to "Indulge". To avoid the sense of loss, abandonment and isolation, the caregiver needs to indulge in self-help activities, to stimulate and re-energize oneself with hope and belief to be able to provide positivity in the new changed relationship. It is important to indulge as a couple and participate in activities which may cognitively stimulate the spouse, reminiscence the old days (looking at old photos, listening to old songs etc.) and to rejuvenate the new relationship on the grounds of an old one.
The fifth step is to "Seek help". It is important to seek professional help once the spouse is diagnosed with dementia. Enroll in dementia support groups or look for places that provide professional help more coherently, be part of a circle that understands the disorder and empathizes with your vulnerabilities. Try to ease the burden of caregiving by hiring a good caregiver who could support in dealing with challenging behavior and personal care. The caregiver spouse should also enroll friends and relatives who could support in times of need. Start with making them aware about dementia and seek help in whatever way possible – logistics, emotional support, respite care or just good companionship.
Being a caregiver is very hard, especially when the sufferer is one's own spouse and has been diagnosed with dementia. As a spouse one may feel loss of the partner, a loss of identity and the painful role reversal. With a sense of belonging, understanding and accepting one may achieve the little gratitude towards making someone else's life meaningful, with a quality check on theirs as well. This can happen only if we acknowledge the above five points, have patience and empathy towards the loved one and live life 'One day at a time' –  this one vow will be enough to help one move forward with dignity and compassion.
---
We at Samvedna Care aim to help seniors live happy, active and independent lives, in the comfort of their home and community through interactive caregiving.
Samvedna Care was established in October 2013 with two complementary goals – firstly to provide quality home care services to seniors with limited mobility or dementia and hence social interaction, and secondly to facilitate stimulating community interaction and participation.
Our Dementia Care services are –
At-home services –
Dementia intervention activities by trained Care Specialists (already mentioned above). These services are available in Delhi NCR
More – Dementia Care
Please call us for more info – Delhi NCR – 98184 21446, 124 4229659
In-Home Trained Attendant Service
Samvedna Care's trained in-home attendant service brings to you verified attendants and nurses, specially trained by specialists in elder care and dementia. Our staff is trained to not only take care of your elderly loved one's physical wellbeing through top class personal care and nursing, but also their emotional wellbeing.  The attendants are monitored by our Senior Care Specialists (psychologists and MSWs)
Our service is available across Delhi, Gurgaon and Noida. We offer both male and female attendants as per request, for 12 and 24 hour shifts.
Know more about our Trained Attendant Services here- Caregiver Services
. You can also call us on 98184 00561 or write to us on [email protected].
Counselling for Ageing Related Disorders in Anand Niketan, New Delhi –
Studies show that elderly may be more prone to depression and loneliness, which can lead to higher rates of unhappiness. To address this issue, we have designed counselling and therapies for seniors with anxiety, low mood or depression, mild cognitive impairment/ memory difficulties, or dementia.
More – Counselling
Dementia Cafe, Sector 57 Gurgaon –
From initial stage to advanced stage, all individuals with dementia feel the need for social interaction at times. Our Dementia Cafe is a safe and friendly place for your loved one with dementia to chill and socialize. The cafe is aplace where they will find a fun activity, a warm chair and companionship. Every Tuesday and Thursday, 11-1PM.
Cognitive Wellness Programme, Sector 57  Gurgaon  –
Samvedna's Cognitive Wellness Programme is designed for seniors with mild cognitive impairment, early dementia or Parkinson's,and elderly lacking in enthusiasm and motivation. The aim is to stimulate the mind of the elderly to slow the progression of the disease or impairment. The sessions are 3 days a week – Monday, Wednesday and Friday, 11AM-1PM.
Dementia Support Group –
Our Dementia Support group in Delhi NCR and Guwahati is a platform for caregivers to share feelings and support each other.
Please call us for more info – Delhi NCR – 98184 21446, 124 4229659